Events
How Startup Weekend Monterey Bay Changed My Life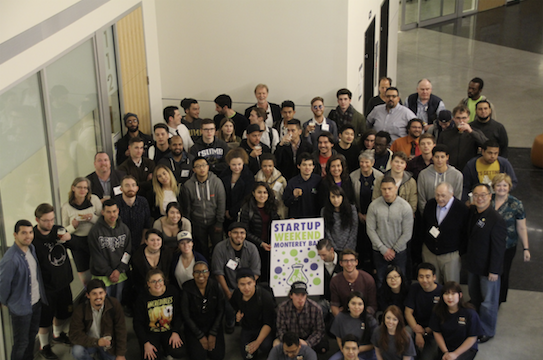 By: Anjika Grinager
Dankedy, Co-founder
Special to Santa Cruz Tech Beat
January 22, 2018 — Seaside, CA
(Photo above, Startup Weekend participants from 2017 gather at the event. Contributed.)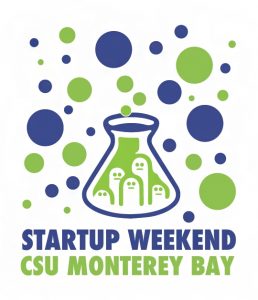 Startup Weekend Monterey Bay 2018
Dates: January 26-28, 2018
Location: Cal State University Monterey Bay
Get your tickets here.
Startup Weekend is an immersive, 54 hour event
This event is an amazing opportunity and an asset to members of our local community. I would love to share my journey into this world and how it has enriched my life and encourage you to participate this year, January 26-28, 2018.
I became a later-life returning student at California State University Monterey Bay (CSUMB) in 2015 after losing out on too many job interviews to the equally-qualified candidate with a degree. After considering my options, I chose to follow my heart and pursue a degree in Communication Design (known to many as Graphic Design). As a returning student, I felt compelled to supplement my education as much as possible. To that end, I scoured the internet for free tutorials, I bought and devoured design books, and I read industry articles. One such article had the following advice: Find a local Startup Weekend and enroll as a designer.
TechStars Startup Weekend events happen world-wide, throughout the calendar year. On any given weekend, people are competing in Tokyo, Madrid, South Africa, Kansas. Startup Weekend is an immersive, 54 hour event in which participants pitch an idea for a business, build a team interested in making it a reality, and spend the entirety of the weekend building out a plan for the business. On Sunday evening, The team assembles and makes a 5-minute pitch to a panel of local established entrepreneurs and business people, who measure the viability of the idea and the road map the team has built to get there.
Intrigued, I did a quick Google search and realized that my very own CSUMB hosts the Startup Weekend and it was just a couple of months away. As a student, I was fortunate to be able to forgo the usual tuition and even earn credit.
I participated in my first Startup Weekend in 2016, pitched an idea, built a team, won second place, and decided to move forward with attempting to build the business. Though that business never got off the ground, I made connections with local entrepreneurs, gained a ton of experience in logo design and brand-building, and landed an internship.
The next year rolled around and I eagerly enlisted again. This time I jumped onto an already-forming team. The team struggled with a lack of leadership and focus. After a marketing-validation exercise, a couple of my teammates and myself grasped onto a new idea. Since the team leader didn't want to move in that direction, or any direction really, we staged a coup and, at the eleventh hour–forming a new team on Sunday, scrambling to formulate a plan, build a brand, perform market validation. In the end, this new team won 3rd place overall and crowd favorite. We provide a sophisticated point of sale software that allows dispensary owners to work on their business, instead of working in it. We knew we were onto something and Dankedy was born. Dankedy provides point-of-sale and inventory management software for the cannabis industry.
After the successful beginning at Startup Weekend, Dankedy went on to compete at the Startup Challenge Monterey Bay, where we placed as one of the finalists. We now have an advisory board and spent the remainder of 2017 honing our business plan, and performing market validation. We are now in development with several beta customers lined up. You never know what can start at Startup Weekend.
###
If you wish to republish this article, please follow our Terms of Use.
###
Tagged Startup Weekend Monterey Bay