Events
Crunching viability and validation at Startup Weekend Monterey Bay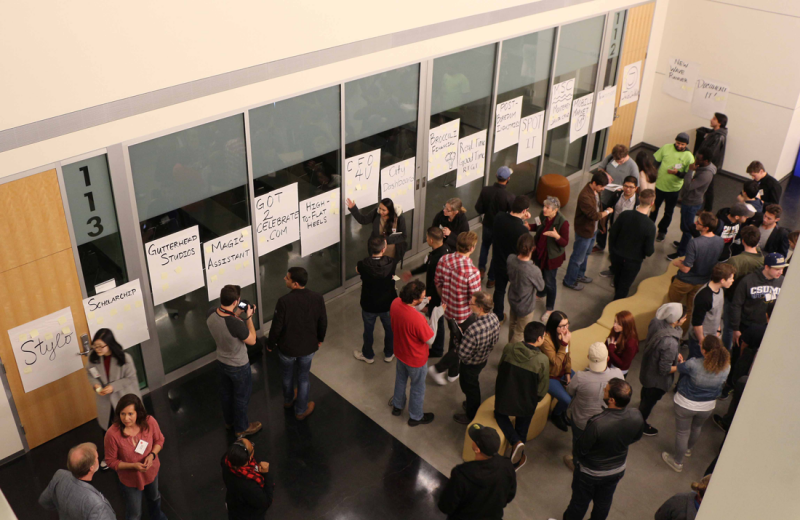 By Jan Janes
Special to Santa Cruz Tech Beat
January 30, 2017 — Santa Cruz, CA
(Photo above: After the formal pitch, presenters continued to sell their concepts and build their teams, and participants received three blank Post It notes to vote for project ideas. Credit: Jan Janes Media)
Wrapping the last weekend in January, more than 100 students and community people immersed in business development during the fifth annual Startup Weekend Monterey Bay, hosted by the Institute for Innovation and Economic Development (IIED) College of Business at California State University Monterey Bay (CSUMB).
The event anchors the middle of three business and technology events each year, beginning with the technology hackathon in the fall and funneling participants toward the competitive Startup Challenge in the spring of each year. Startup Weekend offers an intensive weekend to develop and pitch ideas, form teams and validate concepts with real customers to create viable businesses. Participants learn to repeatedly pivot from obstacles and failure to generate better solutions.
CSUMB continues to articulate more plans for student business success. "We're in the process of setting up a student incubator to help take these projects over time and commercialize them, including a part of that would go past graduation," said Brad Barbeau, Associate Professor, College of Business. Some students start the process early in their college careers and focus their senior capstone projects around business ideas.
Break the Ice: Tell a Lie
Divided into ten groups, participants learned a lot about each other telling two truths and a lie. Several rounds revealed the last liar standing, who became the group leader for the practice round of pitching called Half Baked. From a list of randomly shouted words, teams raced to use Slack to pick their team names, then developed products, logos and 60-second pitches.
Following the trial run, real concepts were pitched by 34 individuals. Participants voted by Post It in the atrium area of the building, where the business promoters continued to talk up the concepts and the team skills needed. Badge labels indicated expertise in business, coding and design. From the initial pitches, more than a dozen projects were green-lighted for weekend development.
Pitching Business as Minimal Viable Products
The pitched concepts, some with teams as small as three members, were:
WorkinSpot – Filling a need in the growing gig economy by providing entrepreneurs with affordable, flexible working spots near them, beyond the home office, coffee shop, coworking spaces.
Stone Mountain – A professional network for the cannabis industry aggregating the information required to make cost effective decisions, recording and reporting sales.
Transitions – Offering adults with developmental disabilities greater opportunities for jobs, independence, community, integration.
StrawShow – A product based company offering a drinking straw that can detect the key ingredients in date rape drugs and changes color if the chemicals are present.
JabOrWalk – Links people for more social interactions, sharing interests, and real life activities, helping them find their tribe.
BiteShare – With the tagline "let's make a meal," a social app that joins groups of people around the activities of recipes, healthy food and cooking.
TRYDEN – A system generating energy efficiency using wasted energy from solar, biomass, natural gas and other fuels.
Celebration Builder – A consortium of vendors for all types of celebrations tapping 92% of events people celebrate.
Pivot Joint – Offering an app for building online delivery services to improve customer acquisition and retention systems, with unique attributes so each individual business can customize their own digital storefront.
Gutterhead Studios – Form an independent video gaming studio for CSUMB developers.
NOWL – with the tagline "What's hot, what's not, right now," an interactive, interface app with live reviews feeding to Instagram, Facebook and Twitter using the program's proprietary database.
SeeFood – Customer acquisition app for local restaurants based on current accurate food reviews.
Refooding – Helping food suppliers redistribute excess food by getting it into mouths of consumers at discounted prices.
102 Participants, 34 Pitches, 13 Teams, All Winners
The teams presented five- minute pitches to judges from academia and business, followed by three minutes of questions. Criteria included customer validation through research, execution and design, and feasibility of business model.
Crowd Favorite – Pivot Point
Third Place – Pivot Point
Second Place – BiteShare
First Place – WorkinSpot
"This was my first time working on a project with coders," said Anthony Furtano, a fourth year CSUMB business major who worked on the Pivot Point team. "I wish I had started this as a freshman, I learned so much in one weekend."
CSUMB sponsors the Startup Challenge each spring for participants to take their fledgling businesses to the next level. Visit www.thestartupchallenge.org for more information.
###
If you wish to republish this article, please follow our Terms of Use.
###
Tagged CSUMB, Startup Weekend Monterey Bay