Companies
The Sit Down: Nielsen Studios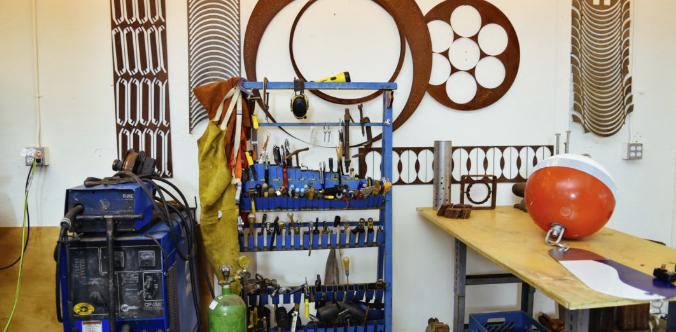 By Rebecca Unitt and Amanda Rotella
City of Santa Cruz Economic Development
January 16, 2018 — Santa Cruz, CA
For our second installment of the Sit Down series we chatted with Timerie Gordon and Christian Nielsen, the husband and wife team behind Nielsen Studios, a local architecture and design firm, in what we learned is the "maker side" of the Nielsen Studios headquarters.
If you have moved swiftly through the frequent long lines at Penny Ice Creamery, sipped a pint at Humble Sea Brewery, or reconnected at a free event in the Secret Garden at Abbott Square you have experienced the end product of Timerie and Christian's design work that helped shape the form and function of the built environment. In the video and full interview below we explore how and why their design work converges with their love of the Santa Cruz community.
The Sit Down: Nielsen Studios from Santa Cruz Economic Development on Vimeo.
Amanda: You both have had an interesting journey to get to where you are now. Christian, your dad is an architect, can you tell me about your decision to become an architect as well?  
Christian: My dad is an architect and ever since I can remember that's what I wanted to do too.  My dad tried to discourage me but it turns out  it was just ingrained in me. Like many other architects, I enjoyed playing with legos and doing hands on types of activities and that's just what I wanted. I went to college to become an architect but when I graduated I said "maybe, I don't want to do this". By this time Timerie and I were together (we met early on at the ripe age of 19), so after we graduated from college we moved to New York.
At that point I decided I wanted to work in the film business. The challenge of breaking into that industry without going to school for it was kind of tricky, but I was able to get some jobs and put it together. In the film industry you spend such long days together in a short amount of time that there is this camaraderie you get with the people you work with. It's kind of like that for a lot of the projects we do now. You get this group of people that are there for a common cause and this camaraderie happens. For me that's why I really like to make our projects a collaborative effort where everyone has a say in the end result.
When we moved out to Oakland, I went back to into working with my Dad in Orinda doing moslty residential and developer focused architecture in the East Bay and Palo Alto areas.
Timerie: At that time we had a few friends who had moved out from Brooklyn with us, and we were visiting each other on weekends and some were here and some were there. Eventually we all sort of settled here in Santa Cruz. We would come here on weekends and to visit my Mom, and we decided "if we are going to live in an expensive City, let's do it here."
Christian: We knew it was time to start our own family and with Timerie's family here and my family in the Bay Area it seemed perfect. Once we moved to Santa Cruz, I decided to take another break from architecture and I started another business with a friend of mine who had moved West from New York and we did that for a few years. And it just…
Continue reading here: https://choosesantacruz.com/journal/2018/the-sit-down-nielsen-studios
###
Tagged City of Santa Cruz Economic Development Department, Nielsen Studios