Companies
Buoy makes a splash at CES 2018 (I kid you not)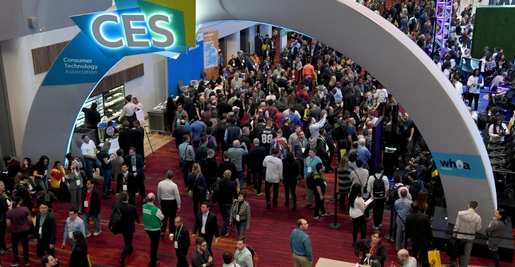 By Sara Isenberg
Founder, Publisher, Editor-in-Chief, Santa Cruz Tech Beat
January 14, 2018 — Las Vegas, NV
[Editor's note: For more about Santa Cruz companies at CES 2018, see Buoy, Onewheel, YaDoggie, Plantronics represent at CES and Santa Cruz techies get to CES the hard, fun way.]
Newsweek
Newsweek published Comsumer Electronics Show Highlights Include Cool New Tech Toys yesterday and they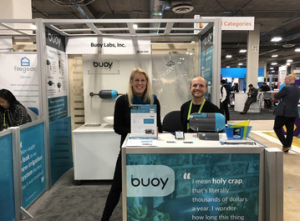 included Buoy! Here's what they wrote:
And finally, a device that not only works well, but also does good. Buoy is a contraption that attaches to your home's incoming water line and is able to provide hard data about how much H20 you are using, and more importantly, wasting. Buoy can detect potential leaks in real-time and even allows you to shut off the flow immediately in a crisis through its proprietary app. It also breaks down what appliances are using exactly how much water (toilets, dishwater, etc.). Company CEO Keri Waters (I kid you not) says the average household is losing 10 percent of the flow to leakage, and that's money going right down the old drain-ola.
Popular Mechanics
Popular Mechanics awarded Buoy an Editor's Choice award in CES 2018: Popular Mechanics Editors' Choice Awards. They wrote:
An AI that watches your water bill: Buoy's device looks like, well, a buoy, but this gadget is about saving water, not floating in it. The device fits onto your home water system and talks to an app wirelessly. It monitors your home water usage and offers feedback about how much H20 you're using in your showers and other activities. And because the AI learns what normal water usage looks like, it can tell when you spring a leak and will automatically turn off the water main. Starts at $800.
GearBrain
GearBrain awarded Buoy the winner of the Best Smart Water Management System in Best of CES 2018: GearBrain names the hottest tech from this year's show, Here's what they wrote:
Buoy is a smart home water device that uses AI and machine learning to let you better understand your home water usage, make smarter decisions, and shut off leaks with an app before they drain your budget or destroy your home. We like how this system can help consumers easily manage their home's water usage and show you where you can save money without having to give up some of the things you really like to do, like having hot showers. We also like how, as part of the cost of the product, you get a licensed professional plumber to install it for you. Buoy is shipping now and costs $799.00; this includes one Buoy device, worry-free installation by a licensed plumber, and a lifetime data subscription to the Buoy service.
###
If you wish to republish this article, please follow our Terms of Use.
###
Tagged Buoy