Companies
Buoy announces Chief Evangelist for Water  (aka CEH2O)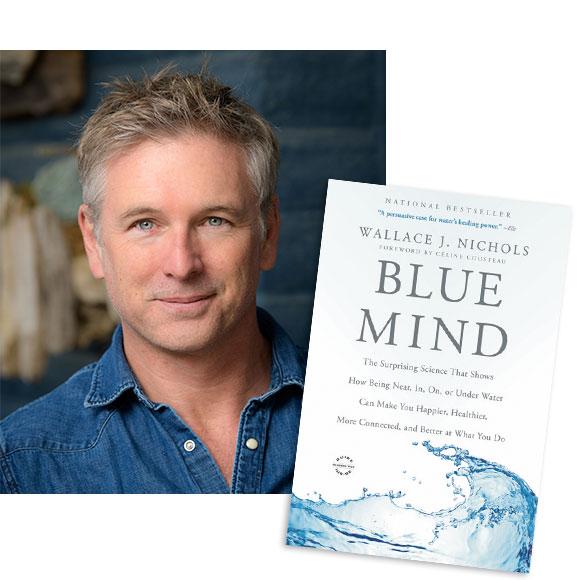 By Keri Waters
Buoy CEO & Cofounder
February 22, 2018 — Santa Cruz, CA
Buoy: Now with More Joy
Dr. Wallace J. Nichols joins Buoy Labs as Chief Evangelist for Water — CEH2O
When we started Buoy Labs, we set out to create a company that would change the way we talk about water issues. Water-related headlines in the U.S. are dominated by terrifying scenarios: water scarcity in the west, water quality fears, flooded sewers in the east, countless more eventualities nationwide. At Buoy, we know anxiety isn't the full story about water. We believe that, by using technology to efficiently manage our most precious resource, each of us can continue thrive wherever we live, without endless fears about our water supply.
I was looking for help in telling that optimistic story, and was introduced to Dr. Wallace J. Nichols. I was somewhat familiar with J's research from his New York Times bestselling book Blue Mind, and I expected that he'd help us find some eloquent ways to talk about water in a way that isn't disconnected from people's everyday lives. I wanted to focus on all the ways water brings us joy, and the positive benefits of managing our water so that we have enough for all the things we love, sustainably.
Being in or near water is essential for optimal mental health
It can seem obvious that playing in the water makes people happier — I mean, who doesn't love a day at the beach, or a long hot shower? However, J told me that I was missing a larger point: It isn't just a better life if we get into the water. Being in or near water is essential for optimal mental health. Understood this way, being in or around water isn't a lifestyle or a luxury, it's an essential part of building healthy, resilient, creative people who are also happier.
This is a big idea. At Buoy Labs, we like big ideas about water. And we think it's time to support visions of the future that are rooted in optimism — visions rooted in the possibility of humanity being happier and healthier than ever before. J describes "Blue Mind" as a mildly meditative state of calm peacefulness, a sense of general happiness and satisfaction with life in the moment, that arises from being in, around, and near water.
J's advocacy for having a "Blue Mind" isn't reduced to simple advice to get in the water. He's specific, making a convincing case for the positive effects of water in technology, medicine, psychology and more.
Consider the way water dominates the world of soundscaping. Listening to rivers, oceans and rainfall reduces stress: shoulders relax, breathing becomes more regular, minds clear. There's science behind the concept that water takes people into a better state of mind. Large companies have built product lines around it, and water-filled soundscaping has proven results. Give it a try right now: Take a moment to think about a river running or ocean waves crashing. What just happened? Most often, people change their posture and breathing at the mere suggestion of water.
In medicine, hot and cold baths have long been used as a way for athletes to relieve strained muscles, and water is a growing part of physical therapy regimens, reducing physical and mental stress on patients. Water births have become more common as birthing centers provide rooms with tubs and encourage women to both labor and deliver in the water. Studies have shown that immersion in warm water during the early stages of labor helps lower anxiety, decrease cortisol levels (an indicator of stress), and promote relaxation in women.
The field of psychology is full of examples of the therapeutic uses of water, but perhaps nothing as clear as the positive effects of water on PTSD. Groups such as Operation Surf take combat veterans in the water, getting them on surfboards regardless of their ability or disability level, and connecting them to the water. This hydrotherapy is mental as well as physical; time in the water raises their spirits and reduces anxiety and stress levels, while water's buoyancy offers physical support they don't feel on land.
I like that J challenges us to consider not just how Buoy Labs helps people avoid things they don't want — high water bills and costly damage to their homes — but also how we use technology to help people have the things that improve their lives, connecting people more tangibly to the ways water brings them joy.
I'm proud to announce that Dr. Wallace J. Nichols is joining Buoy Labs as our Chief Evangelist for Water — our CEH2O. J helps us remember why we're on this mission. By saving water and saving money and preventing damage from leaks, we have more water for everything that makes us happier and healthier: long baths, soft, cool lawns, hot tubs, gorgeous gardens, big family meals, and more.
In the coming months, you'll hear more from J on our blog, and see his influence in everything we do. He's helping us shape the direction of Buoy's app, bringing more insights about the way your water use positively impacts your life.
We look forward to your feedback, and hope your Buoy is making your life better! Please tell us about it in the comments below, or on Buoy's Facebook or Twitter (@buoy_labs).
If you don't have a Buoy yet, go here to learn more about J, Buoy and living blue.
###
This article was originally published here: https://medium.com/buoy/welcome-ceh2o-bc8247dd1617
###
Tagged Buoy