Companies
Agriculture and Technology Leaders Gather in The Heart of Silicon Valley to Advance The Future Of Agriculture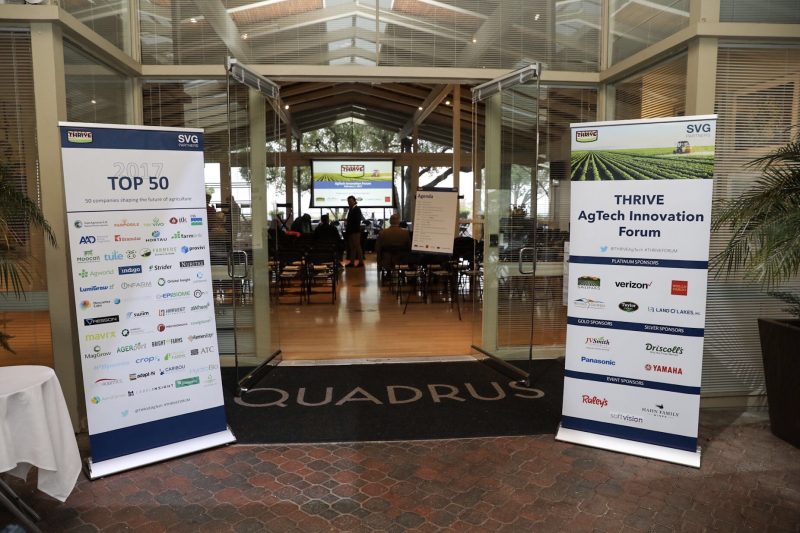 (Contributed)
February 1, 2017 — Menlo Park, CA
SVG Partners host their THRIVE AgTech Innovation Forum to advance pioneering agtech innovations and forge new partnerships across technology and agriculture.
The forum brings together entrepreneurs, technologists, investors, corporates and farmers to discover the technologies that are changing the way we grow food today and in the future. The event includes featured speakers such as Mike Macrie, CIO, Land O'Lakes; Bruce Taylor, Chairman and CEO, Taylor Farms; Kevin Murphy, CEO, Driscoll's Berries; Karen Caplan, CEO, Frieda's Specialty Produce; Sean O'Sullivan, Managing Partner, SOSV, Food-X; Michael Teel, CEO, Raley's; Saida Ruscitto, Product & New Business Innovation IoT, Verizon Wireless; and George Kellerman, COO, General Partner, Yamaha Motor Ventures & Laboratory Silicon Valley.
The forum will feature the top 50 most innovative companies exemplifying the best in agriculture-focused innovation and 11 of those companies will present their solutions ranging across big data & analytics, biotechnology, cloud services, connected devices, robotics & automation, and supply chain & infrastructure:
Agronomic Technology Corp. | Cloud-based recommendation platform for farmers and agronomists
BrightFarms | Pioneering the future of local, low-impact farming
Strider | Precision agriculture platform for pest control
Resson | Bioinformatics and data analytics company, delivering customized agriculture solutions for large corporate clients
MagGrow | Magnetic Spraying System
PrecisionHawk | Fully autonomous UAV performing low altitude aerial data collection and subsequent data management and analysis
Advanced Animal Diagnostics | Developing diagnostic products to cure on-farm animal diseases
Granular | Software and analytics platform that helps farmers operate more efficiently and make better business decisions
AGERpoint | Redefining data acquisition, analysis, and translation for growers
Soft Robotics Inc. | Opening new markets to automation through the application and commercialization of proprietary soft robotics technology
Caribou Biosciences | Technology-based biotechnology solutions for cellular engineering and analysis based on the CRISPR-Cas9 technology platform
"The 2017 THRIVE AgTech Forum explores how leaders today across agriculture- from the field through the supply chain to the consumer- are working new technologies into our food system to achieve greater efficiencies, environmental stewardship, and consumer safety," said John Hartnett, Founder & CEO, SVG Partners.
"California farmers are collaborating to accelerate technology development and deployment. The Thrive AgTech Innovation Forum helps nurture and speed this process of discovery," said Chairman and CEO, Bruce Taylor, Taylor Farms.
Since 2014, SVG Partner's unique agtech accelerator platform, THRIVE, has supported seed and scaling agtech startups by providing well-resourced mentors from leading agriculture and technology companies, deployment, and investment opportunities. What began with the vision of transforming the the city of Salinas into a world renowned agtech hub has flourished to become an ecosystem of over 800 agtech startups, mentors and corporate partners.
"The Thrive AgTech Innovation Forum provides the most diverse ecosystem of any AgTech event globally. This event is the only place where all of the strategic stakeholders in AgTech: venture capital, private equity, innovators, universities, startups, established agribusiness companies, corporate farms, distributors and growers can get together and discuss the future of agriculture. Through the fostering of these connections, we are able to very quickly see the progress of innovation, whether it is ready to be applied to our crops and markets, and determine whether we can partner with others to bring these solutions to our member-retailers and America's farmers in a more expedient way" said Mike Macrie, Chief Information Officer, Land O'Lakes.
The THRIVE AgTech Innovation Forum is presented by SVG Partners in collaboration with partners Taylor Farms, Land O'Lakes, the City of Salinas, Wells Fargo, Western Growers Association, Panasonic, Verizon Wireless, Yamaha Motor Ventures and Laboratory Silicon Valley, Driscoll's Berries, JV Smith, Raley's, Softvision and Hahn Winery. Follow along by using the hashtag #THRIVEForum @THRIVEAgTech on Twitter.
ABOUT SVG PARTNERS
SVG Partners is an investment, technology and advisory firm that partners with organizations on strategy, innovation and global expansion. Since 2007, SVG's experience team of senior technology leaders and venture capital investors have worked with global corporations and scaling companies to drive competitive advantage from strategy to implementation. Through its accelerator and open Innovation programs, engineering and development services, and executive strategy and advisory, SVG Partners helps build and scale innovative technology companies worldwide. SVG Partners is based in Silicon Valley, CA.  www.svgpartners.com
ABOUT THRIVE AGTECH
THRIVE AgTech's mission is to connect the expertise of tech companies to on-the-ground knowledge of agricultural companies, the financial backing of investors, and the entrepreneurs solving problems in the AgTech space. THRIVE unites these communities in order to drive the development and adoption of sustainable technology enhancements necessary for securing the global food demands of the future. The THRIVE program targets two stages of companies, the very early to commercially ready. Early stage companies accepted into the program go through a rigorous bootcamp and receive mentorship from industry leaders to help them scale their companies. THRIVE's Open Innovation program directly connects corporate partners with high growth startups to trial and deploy cutting edge technologies focused on agriculture.
###
Tagged agtech, SVG Partners, Thrive Accelerator