Featured
EDGE Mobile Payments Acquires Plastc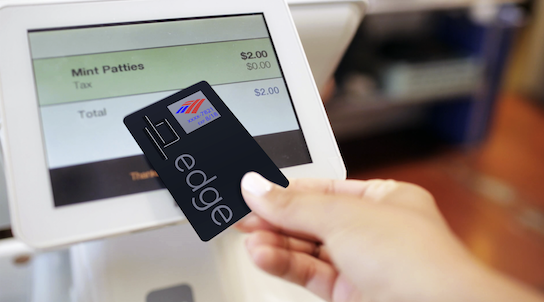 (Contributed)
December 14, 2017 — Santa Cruz, CA
EDGE Acquisition Enhances Its Smartcard Technology Platform
[Editor's note: See the review in TechCrunch here.]
EDGE Mobile Payments, a Santa Cruz-based Fintech company, today announced it has acquired the assets of Plastc, a San Francisco-based digital payments company. The acquisition enables EDGE to build on Plastc's progress to accelerate the release of its upcoming EDGE Card.
The EDGE Card will store the information of multiple payment cards into one dynamic card and allows users to pay with all three primary payment card methods: magstripe, EMV chip and NFC. It will feature a color screen composed of flexible organic materials for account navigation as well as improved card security and support for cryptocurrency.
"While Plastc ran out of funding before it could ship a completed product, the company made significant progress in engineering and marketing a dynamic payment card," said Peter Garrett, founder and CEO of EDGE. "This acquisition will accelerate our production timeline and move us closer to what the public wants: a dynamic payment card with improved security that consolidates all your cards into one."
As part of the Plastc Asset Purchase, EDGE has agreed to provide a significant benefit to Plastc preorder customers: a $50 discount toward the purchase of the EDGE Card. To learn more about this offer, visit: http://www.edgesmartcard.com/bailout/
"Consumers use over a billion magstripe cards using technology that hasn't changed in nearly 50 years," said Peter Garrett, founder and CEO of EDGE. "Our EDGE Card will bring consumer payments into the modern age, while making them more convenient and secure. For the Plastc backers, we value their contributions and want to honor their support."
Rather than relying on preorder financing to fund the development of the EDGE Card, EDGE is relying on private equity to develop and produce a full-featured dynamic payment card. A broad EDGE Card beta program will begin in the first half of 2018 and shortly afterwards, the EDGE Card will be available to the general public.
About EDGE Mobile Payments
Santa Cruz-based EDGE Mobile Payments is an IoT Fintech company dedicated to enriching the user experience with its new mobile wallet and dynamic smartcard technologies. Find out more at www.edgesmartcard.com and follow EDGE Card on Facebook, Twitter and Instagram.
###
Tagged EDGE Mobile Payment Systems