Companies
Joby Aviation presents a bid for Cemex plant in Davenport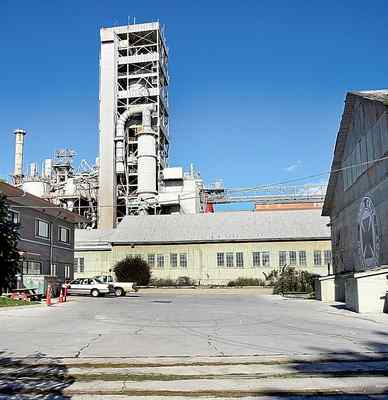 By Nicholas Ibarra
Santa Cruz Sentinel
December 6, 2017 — Davenport, CA
(Photo above: The tower of the Cemex plant in Davenport has stood silent since 2010. The county has unveiled four economically viable scenarios for its potential reuse. Credit: Dan Coyro)
"Now flush with funding, Joby Aviation is looking to expand its operations to new headquarters."
Out of the four Cemex plant reuse options unveiled at a Tuesday evening community meeting, one appeared to fly high above the rest: a bid by a locally owned aviation company to use the derelict industrial site as its new headquarters.
The three additional scenarios presented by county-hired consultants were to turn the 104-acre site into a lodge additional cabins and camp sites, a recreation-oriented conference center of comparable size to Asilomar in Pacific Grove, or 300 units of senior housing.
Following a presentation on each of the housing and lodging alternatives by the consultants, Joby Aviation founder Joe-Ben Bevirt shared his own far-reaching vision for his company and the site.
The man who has been called the "Elon Musk of Santa Cruz" began the presentation with an image of his birth certificate, showing that he was born on nearby Last Chance Road.
The innovator of a popular flexible camera tripod has in recent years set his sights much higher: building personal electric aircraft usable by commuters.
Now flush with funding, Joby Aviation is looking to expand its operations to a new headquarters.
"We can only do that if you all are with us," Bivert told the crowd.
Continue reading article here: http://www.santacruzsentinel.com/article/NE/20171205/NEWS/171209824
###
Tagged Joby Aviation, JoeBen Bevirt