Companies
An ambitious flying taxi startup is setting up shop at the Marina Municipal Airport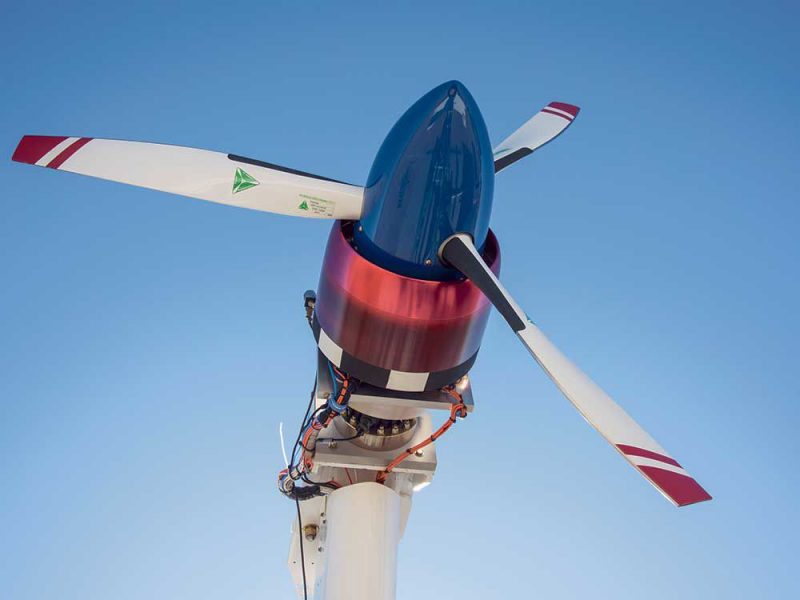 By David Schmalz
Monterey County Weekly
September 11, 2018 — Marina, CA
(Photo above: NASA has contracted Joby to build electric cruise motors, like this one, for a manned experimental airplane. All of Joby's current prototypes are secret. c/o NASA/Lauren Hughes)
Joby's initial leases are for three years, with an option to extend three years
"Take the high road."
That's the motto of Joby Aviation, a flying taxi startup that, in the coming weeks, is moving much of its operation to the Marina Municipal Airport.
And this is only the beginning: The company, which was founded in 2009 and has raised $130 million in venture capital funding to date, including a $100 million investment round led by Intel this past winter, is trying to transform the future of urban transportation, and is planning to make the Marina Airport its home.
On Aug. 21, Marina City Council approved two leases for Joby to move into two buildings at the airport, where they will set about designing and building prototypes of small, electric planes that take off and land vertically, travel faster and more quietly than a helicopter and, according to Joby, do it more safely.
It's the vision of a future where, if one wanted to travel from San Francisco to San Jose, one could do it aboard an air taxi for an affordable price.
"This is a wonderful, Jetsonian vision," said Marina Mayor Bruce Delgado, after hearing Joby's Scott Berry present to the council Aug. 21.
The idea could hardly be more ambitious: At the outset, Joby will be leasing two buildings at the Marina Airport – a total of about 74,000 square feet – but the company's plan in the next few years is to expand to a larger space at the airport, and operate a manufacturing facility of between 1.5 million to 2 million square feet where flying taxis would be built.
Continue reading article here: http://www.montereycountyweekly.com/news/local_news/an-ambitious-flying-taxi-startup-is-setting-up-shop-at/article_9f1a6616-abe8-11e8-b572-db5fa095cca5.html
###
Tagged Joby Aviation