Events
Jenny Reardon participates in Vatican workshop on personalized medicine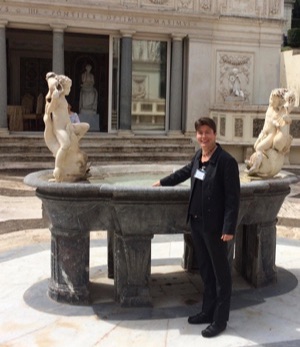 By Jennifer McNulty
UC Santa Cruz
May 14, 2019 — Santa Cruz, CA
(Photo above: Jenny Reardon says the Vatican was a stunning backdrop to explore the profound questions of personalized medicine. Photo source: Jenny Reardon)
Jenny Reardon, a leading voice in the field of genomics, was one of 15 participants invited to attend a workshop on personalized medicine hosted by the Pontifical Academy of Sciences.
The workshop, "The Revolution of Personalized Medicine: Are We Going to Cure All Diseases and at What Price?," took place April 8-9 in Vatican City. With an emphasis on the bioethical complexity of genomics, as well as the technological challenges, the workshop brought together leading minds from around the world to assess this new era in medicine.
Among the attendees were pioneers of the field of genomics, including Eric Lander, a principal leader of the Human Genome Project and president of the Broad Institute; Christopher Austin, director of the National Institutes of Health's National Center for Advancing Translational Sciences; leaders in medical ethics, including Joseph Fins, chief of the Division of Medical Ethics at Weill Cornell Medical College, and Nobel Laureate Aaron Ciechanover.
Reardon is the author of the 2017 book The Post Genomic Condition: Ethics, Justice, and Knowledge After the Genomeand Race to the Finish: Identity and Governance in an Age of Genomics. The founding director of the Science and Justice Research Center at UC Santa Cruz, Reardon brings questions about identity, justice, and democracy to her scrutiny of genomics and the promise of personalized medicine. In 2018, Reardon coauthored an open letter signed by 67 scholars responding to Harvard University's David Reich's op-ed in the New York Times about genetics and race.
A persistent advocate for public dialogue about genomics, Reardon was honored to participate in the Vatican workshop. "The Catholic Church reaches millions of people around the globe," she noted. "How it discusses these issues is very important."
Reardon said workshop discussions revolved around three areas:
The relationship between wealth and health, specifically the cost of personalized medicine;
Governance of science, and the interplay of science and ethics;
The challenge of evaluating the revolutionary nature of genomics: Is this a paradigm shift in science, or not?
 "We had an intense conversation about the governance of science arising out of the CRISPR babies case," recalled Reardon, referring to the birth of twins in China whose genomes were edited in hopes of protecting them from HIV infection. Despite the 2015 declaration of a public moratorium on this type of work, except in critical cases where there is no other medical treatment available, He Jiankui revealed at the end of November that he broke rank and had used CRISPR to alter the DNA of human embryos. "Now, he is thought to be held under house arrest in China," said Reardon. "Questions that have arisen in the months since is why other scientists and ethicists who knew about his work did not speak up, and should those who helped him also be held accountable?"
Continue reading here: https://news.ucsc.edu/2019/05/reardon-vatican.html
###
Tagged genomics, UC Santa Cruz