Companies
YaDoggie: Tech Veterans Launch "No Worries Dog Food" Startup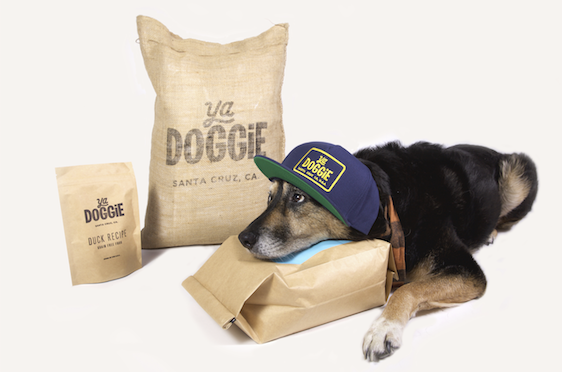 (Contributed)
September 20, 2017 — Santa Cruz, CA
Serial tech entrepreneurs trade big data for big dogs and "dogfooding" for actual dog food, launching membership club and smart scoop that deliver food just when your best friend needs it
Today, a team of dog crazy entrepreneurs and investors launched the first dog food company that combines high tech with high quality to make taking care of your furry family members as easy as loving them. The company, called YaDoggie, is a new kind of membership club that uses smart technology to do something extremely simple: deliver dog food to your door, just when you need it.
"No worries dog food – that's what it's all about," said Sol Lipman, co-founder and CEO of YaDoggie. "You shouldn't have to worry that you're going to run out of food, about what's in your dog's food, or about who fed the dog last. We deliver your next bag just when you need it. Our food is healthy, grain free, and comes in three different recipes that are great for any dog. We use tech as a wellness solution to make sure you're not overfeeding or substituting the wrong food because you ran out. Once you're a YaDoggie club member, you just feed your dog and we take care of the rest. No worries."
YaDoggie is also announcing a new smart device, the YaDoggie Smart Scoop. The Bluetooth enabled Smart Scoop will automatically track when you feed your dog, instantly let family members know the dog's been fed, and turn YaDoggie's predictive shipping from "handy" to "magic" as we get to know your pup and their eating habits.
By tracking feeding times and amounts, YaDoggie knows when you're going to run out of food and ships out your next bag before you run out. The new Smart Scoop will begin shipping in November for $49. As a bonus to early adopters, anyone who signs up for YaDoggie between now and when the scoop starts shipping will get the Smart Scoop for free.
Getting started with YaDoggie costs just $1, and gets you a Welcome Kit that includes a trial bag of YaDoggie Duck, Lamb, or Turkey kibble, a bag of YaDoggie treats, and a tennis ball for play time. You also get some irreverent, biodegradable poop bags – YaDoggie has you covered on both ends.
Once you become a member, YaDoggie provides dog owners:
Predictive delivery: By tracking feeding times and amounts, YaDoggie accurately estimates when you will run out of food and ensures your next bag arrives before your last bag runs out.
Custom feeding plan: based on your dog's size, age, breed, and activity level, YaDoggie creates a custom feeding plan optimized for an active and healthy lifestyle.
Premium dog food: Three different recipes of kibble include: Buffalo/Duck, Lamb & Sweet Potato, and Limited Ingredient Turkey & Pea (for dogs with sensitive tummies). All are premium, grain-free recipe dog foods, created for dogs, by dog lovers.

YaDoggie food is great for dogs of all ages (*Turkey recommended for dogs over 6 months), breeds, and activity levels and are always 100% grain-free.

Free shipping: no matter how much your dog eats, you never pay for shipping.
Personalized food costs: you pay only for what your dog needs. No monthly fees, just the cost of your food, billed only when you get it.

YaDoggie estimates that food for an average 40 pound dog will cost approximately $50.00 / month.

Mobile and online profile management: Track your next deliveries, pause shipments, record mealtimes, let family members know you fed the dog, and even get reminders to make sure you never forget dinner time.
Discounts in the YaDoggie store: everything from treats to balls for your doggie, to hats and pint glasses for their hoomans.
Free poop bags (forever): pooping makes dogs happy, always having bags handy makes people happy.
Treats-only plan: for dogs on a prescription diet, customers can still join YaDoggie on a treats-only plan to get all the benefits of YaDoggie without disrupting a working eating plan.
"I'm completely serious when I say that there is absolutely no reason that a normal person with a dog shouldn't be a YaDoggie club member," continued Lipman. "It costs $1 to get started so there is zero risk and, from that point on, your life just gets easier."
This new venture is backed by some of the most prominent executives and angels in Silicon Valley, including Tim Armstrong (CEO of Oath), Jeff Bonforte (SVP of Comms & Search at Yahoo), Jackie Reses (Capital Lead at Square), along with many others. YaDoggie also brings together a group of seasoned advisors from the tech and dog food worlds, including Peter Meehan (President of Newman's Own Organics), and Toby Corey (former President at Tesla Energy Group).
New YaDoggie members can sign up for their $1 at www.yadoggie.com. 
About YaDoggie:
No Worries Dog Food. YaDoggie is a new breed of dog wellness company that combines high quality food and high tech to deliver dog food to your door, just when you need it. YaDoggie members enjoy free shipping, personalized pricing, free poop bags, and discounts on everything from treats to toys in the YaDoggie store. YaDoggie food comes in three recipes and is guaranteed to be balanced, healthy, and 100% grain free. The YaDoggie team consists of a pack of dog-loving, serial successful startup founders with a mission Provide the best wellness products and services to pet parents. YaDoggie is also backed by a diverse group of leading executives and angels from the tech and dog food worlds. The company is based in Santa Cruz, CA.
###
Tagged YaDoggie