Featured
Love 'em or hate 'em, robots are here to stay so let's make them better, says psychology prof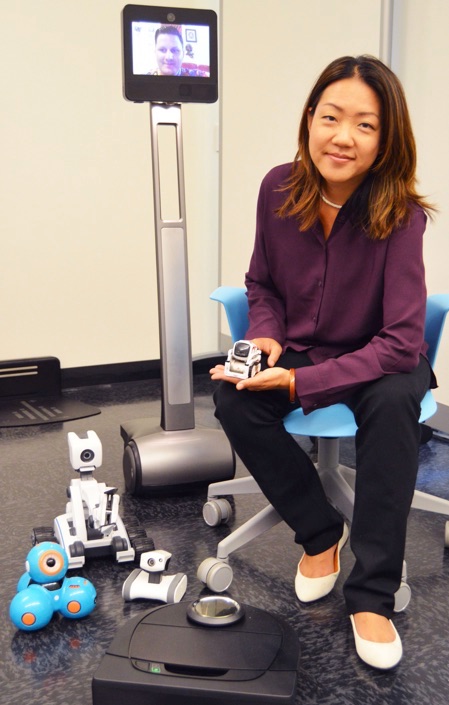 By Jennifer McNulty
UC Santa Cruz
September 13, 2017 — Santa Cruz, CA
(Photo above: "I'm interested in building robots that interact with people, that do things for people in their day-to-day lives, not just in factories and on battlefields," says Leila Takayama, an acting associate professor of psychology who joined the faculty last fall. "I want them to disappear the same way telephones have disappeared." Credit: Melissa De Witte.)
Leila Takayama is an expert on robots, yet she's the first to admit that she has a complicated relationship with these technological marvels.
She's happy to have them vacuum and mow the lawn, but she gets nervous in a friend's Tesla when he puts it on auto pilot.
Takayama knows better than almost anyone how integrated robots have become in our lives—which also makes her an expert on their shortcomings. Yet her excitement about their potential to enhance human relationships is contagious. Such is the paradox of being a leading researcher in the field of human-robot interaction.
"I'm interested in building robots that interact with people, that do things for people in their day-to-day lives, not just in factories and on battlefields," said Takayama, an acting associate professor of psychology who joined the faculty last fall. "People are intimidated by robots, but that goes away when they interact with them. We quickly fall into talking to them like they're alive, like they're our partners, or pets. That's key to my work, which is all about making robots easier to live and work with."
Robots have already transformed manufacturing, and they are regular fixtures in hospital operating rooms, search and rescue operations, deep-sea exploration, and bomb disposal. Takayama's work focuses on improving the design and function of personal robots to make them more appealing to humans, expanding what they can do for us.
Professional designers and human-computer interaction researchers like Takayama are making robots more approachable. "We've learned from the lessons of developing personal computers, that we can make these seemingly complicated systems more user-friendly," she said.
Takayama specializes in robots with "telepresence"—machines outfitted with video and telecommunications gear that are fully or partially controlled by people. They range from the size of a toy poodle to an adult human, but Takayama's favorite model is about four feet tall and looks a bit like an iPad on a rolling vertical stand; it retails for about $1,500.
Continue reading article here: https://news.ucsc.edu/2017/09/takayama-robots.html
###
Tagged UC Santa Cruz