Featured
Scientists reconstruct genome of common ancestor of crocodiles, birds, dinosaurs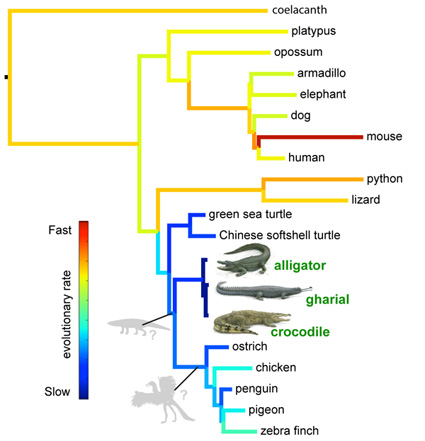 By Tim Stephens
UC Santa Cruz
[Image above: This phylogenetic diagram shows the inferred evolutionary relationships among birds, reptiles, and mammals. Colors indicate the estimated rates of evolution, with cooler colors corresponding to lower rates of molecular evolution. (Image credit: Richard E. Green et al.)]
Crocodiles found to have one of the most slowly evolving genomes, whereas the pace of genetic change has been much faster in birds
Crocodiles are the closest living relatives of the birds, sharing a common ancestor that lived around 240 million years ago and also gave rise to the dinosaurs. A new study of crocodilian genomes led by scientists at UC Santa Cruz reveals an exceptionally slow rate of genome evolution in the crocodilians (a group that includes crocodiles, caimans, alligators, and gharials).
The UC Santa Cruz team used the crocodilian genomes, combined with newly published bird genomes, to reconstruct a partial genome of the common ancestor of crocodiles, birds, and dinosaurs. The study, part of an ambitious international collaboration to analyze the genomes of modern birds and gain insights into their evolution, is one of eight papers from the Avian Phylogenomics Consortium being published in a December 12 special issue of Science.
Richard E. (Ed) Green, lead author of the crocodilian genome paper and an assistant professor of biomolecular engineering at UC Santa Cruz, said the slow evolutionary rate in the crocodilian lineage was helpful in reconstructing the genome of the common ancestor.
"The ticking of the molecular clock in the crocodilians is much slower than in other lineages we're used to looking at, like mammals, which means we can see back into their past more cleanly," Green said.
Continue reading article here: http://news.ucsc.edu/2014/12/crocodile-genomes.html
###
Tagged genomics, UC Santa Cruz