Featured
Local authors share easy summer read on personal wealth management for busy tech execs and entrepreneurs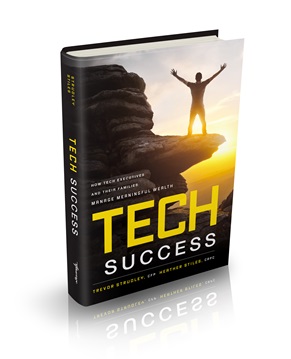 (Contributed)
August 3, 2017 — Santa Cruz, CA
For an easy and thought-provoking summertime read, check out "TECH SUCCESS: How Technology Executives and Their Families Manage Meaningful Wealth," by local authors Trevor Strudley and Heather Stiles.
TECH SUCCESS is a quick read for busy tech execs and entrepreneurs who are building wealth but have little time to think about retirement or their work-optional days ahead. The book offers insights into planning for that day.
Local authors, Trevor Strudley and Heather Stiles, hail from the Capitola branch of Raymond James Financial Services, Inc., member FINRA/SIPC, and have more than three decades of Silicon Valley and Santa Cruz experience in matters that impact tech execs on both sides of the hill. Whether you're a Santa Cruz local at Plantronics, Looker, Inboard, Zero Motorcycles, Joby Aviation, or Amazon; commute "over the hill" to Facebook, Apple, Google, Tesla, Microsoft, or Intel; or a tech entrepreneur just getting off the ground, TECH SUCCESS is a must-have when planning for the future.
TECH SUCCESS is a practical, accessible guide for technology executives who want to build, protect, and transfer multigenerational wealth while making a meaningful difference in their community and the world.
The book contains well-organized, insightful topics such as getting to "work-optional" for tech execs and their families. It also discusses ways to replace employment earnings with guaranteed, reliable, and variable income. There is a chapter on the Social Security piece of the equation. And it has information about how strategically managed debt can improve your overall financial situation. Other chapters discuss planning the right time to retire; mitigating personal, property, and personal liability risks; and the implications of taxes on wealth.
The best practices and pitfalls of legacy planning are also included in the book, as are family concerns—topics such as education and preparation as keys to avoiding multigenerational erosion of wealth along with issues and concerns raised by spouses, partners, and cohabitating significant others who also have a stake in the family's future.
The authors, a husband-wife team, also share their firsthand understanding of the unique financial implications of international marriage, overseas assets, and emigration—a plus for tech families with non-US citizen members.
If reading a financial planning book isn't really your idea of fun while basking in the sun, consider what others who have read the book are saying:
"Every aspect of financial planning is detailed in an almost lyrical style of writing that holds your attention and keeps you turning the pages even if you are the type that finds your eyelids dropping at the word 'planning.'" J. Sadlier
"Properly managing and effectively transferring wealth from generation to generation can be confusing. Trevor effortlessly explains the inner workings of income-tax planning and the most crucial knowledge points I needed to be aware of. " Joshua Coleman
"TECH SUCCESS provides vital information not only for Tech Executives but also for anyone interested in planning for their family's financial security. The book contains the perfect balance between financial industry specifics and easy to read content. … It is entertaining throughout as it includes a fictitious family's financial mistakes and what should be done as corrective action. The book emphasizes specifically the need for retirement planning as a cornerstone to the overall financial planning process and without one, mistakes can be made that are irreversible. There are many financial do-it-yourself books on the market, but TECH SUCCESS provides pertinent information one needs to engage intelligently with financial and retirement specialists." Amazon Customer
Each chapter in TECH SUCCESS concludes with a topical checklist so you can verify whether you are on plan or need to take action.
===
TECH SUCCESS is available on Amazon, at Bookshop Santa Cruz, and other local independent bookshops.
All book royalties are donated to the Community Foundation Santa Cruz County and the Silicon Valley Community Foundation.
Raymond James Financial Services in Capitola, CA, provides concierge wealth management services for successful technology executives and families in the Santa Cruz and Silicon Valley areas. The team works with local tax, legal, risk management, and philanthropic advisors to implement individualized solutions for each client's personal needs and financial situation.
Visit TechSuccessBook.com for more information.
###