Featured
UCSC Scores Renowned Game Developer to Run Program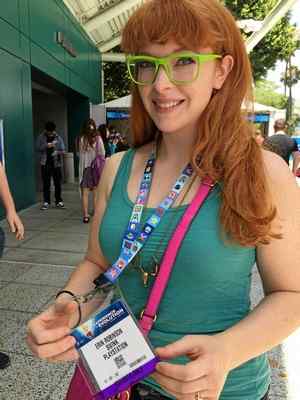 By Ryan Masters
Santa Cruz Sentinel
December 29, 2015 — Santa Cruz, CA
(Photo above: Renowned game designer and developer Erin Robinson Swink was recently tapped for the role of creative director at UCSC's Center for Games and Playable Media. Source: Erin Robinson Swink)
[Editor's note: SCTB recently published another article about Erin Robinson Swink's appointment at UCSC. Here's another perspective.]
In "Gravity Ghost," Erin Robinson Swink's hit video game, the player controls the ghost of a young girl named Iona as she flies alone through the vast purgatory of our solar system.
Not a terrible metaphor for a successful female designer-developer in the male-dominated game industry.
"I definitely feel the pressure," Swink said. "As one of the few women operating in this environment, it's not enough to be merely good. I feel like I have to be outstanding."
Fortunately, she is. Fast Company named Swink one of the most influential women in technology in 2011. Last week, UC Santa Cruz appointed her creative director of its master's program in games and playable media.
Swink began designing games a decade ago while a student at Queen's University in Kingston, Ontario. She enlisted the help of a musician and programmer she met online to create her first game, "Spooks."
"No one told me I couldn't design games. I suppose it was partly the arrogance of youth," she said.
Swink taught herself how to program and eventually signed a publishing deal. She founded her own company, Ivy Games, in 2010. To date, she boasts credits on more than 10 independently developed games.
Continue reading article here: http://www.santacruzsentinel.com/technology/20151221/ucsc-scores-renowned-game-developer-to-run-program
###
Tagged gaming, UC Santa Cruz, UCSC Center for Games and Playable Media