Events
Community invited to UCSC talk on Data and Democracy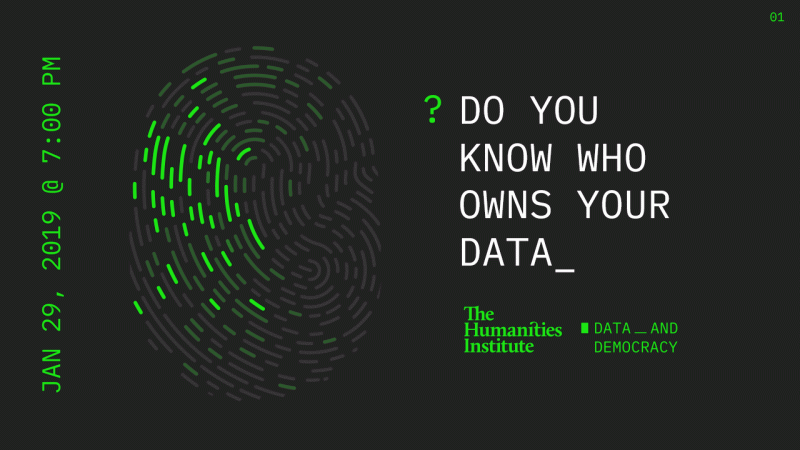 (Source: The Humanities Institute, UCSC)
January 8, 2019 — Santa Cruz, CA
Join us as we contend with Data and Democracy
Questions That Matter: "Data and Democracy"
January 29, 2019
Reception at 6pm, Program 7-9pm
Kuumbwa Jazz Center, Santa Cruz
Hosted by The Humanities Institute (THI) at UCSC
Get Tickets, $15 (includes light refreshments)
Featuring: Pranav Anand, Associate Professor of Linguistics and Lise Getoor, Professor of Computer Science and Engineering
Moderated by: Nathaniel Deutsch, Director of the Humanities Institute
As our society navigates shifting definitions of fake news, targeted ad programs, and compromised voting systems, it is essential that we work to understand the complex and often obscured relationship between data and democracy. During the 2018 – 2019 Academic Year, The Humanities Institute will lead a community-wide conversation about this topic through a range of events focused on the ethics of social media, online privacy, big data, and algorithmic bias.
The Humanities are essential in helping us make sense of this changing world.
Let us consider together what it means to be human as technologies advance and transform the world around us. If social media can undermine our fundamental institutions and commodify our personal data to shape civil society, can these tools also spark better forms of civil discourse by connecting communities, building shared spaces, and raising our voices collectively? Can we imagine not only the dangerous consequences of artificial intelligence, but also technologies that lead to a better informed and engaged citizenry where data creates a shared understanding of policy implications, demographic shifts, and economic realities?
Join THI to explore how we got here and to imagine a more inclusive, open, and transparent future.
[See event details at the top of page.]
###
Tagged UC Santa Cruz