Featured
Cabrillo College launches Sustainable Agriculture Technology degree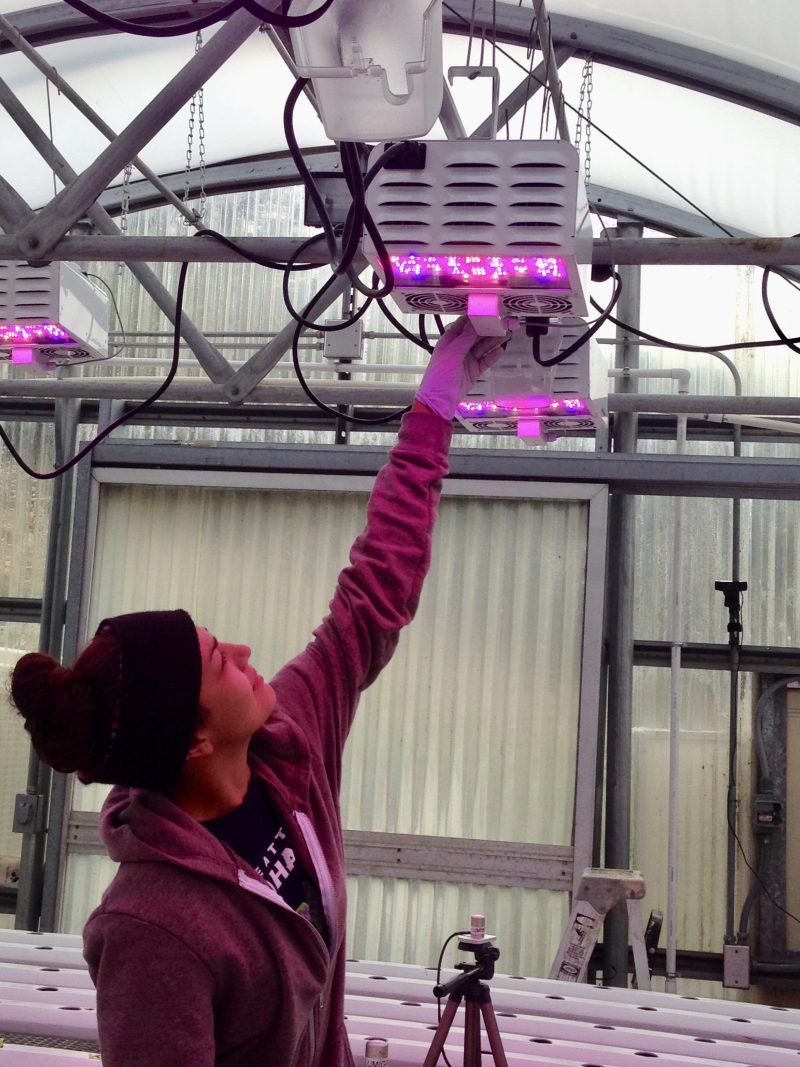 By Sarah Hulick
Agricultural Technology Specialist, Cabrillo College
Special for Santa Cruz Tech Beat
December 4, 2018 — Aptos, CA
(Photo above: A Cabrillo College student adjusts the wifi module on an LED light in a hydroponic greenhouse. Contributed.)
Cabrillo's Sustainable Agriculture Technology degree is designed to prepare students for a career in the emerging agriculture technology industry.
Cabrillo College announces the launch of a new Associates of Science degree in Sustainable Agriculture

Technology. Cabrillo's Horticulture department has refurbished 3,000 sq. ft. of greenhouse space with LED lighting from LumiGrow, built a new 2000 sq. ft. greenhouse with state of the art solar panel technology from Soliculture of Scotts Valley, and built an indoor, vertical farm, with the help of the Construction and Energy Management department, all to support the curriculum for the new Ag Tech degree.
We are geographically located between the technology juggernaut of the Silicon Valley and two of the most important food production regions of the world: the Pajaro and Salinas Valleys. Thus, we have a unique opportunity to play an important role in the development of the agricultural technology industry and provide holistic education and relevant training for the labor market demands that this emerging industry needs.
This interdisciplinary degree is housed within the Horticulture department and includes core curriculum from six departments including:
How Things Work in Engineering
Technology Tools in Computer Science
Introduction to Geographic Information Systems in Geography
Computer Network Fundamentals in Computer and Information Systems
Excel in Computer Applications/Business Technology
and Horticulture classes in Greenhouse Design and Operation, Irrigation Systems and Management, Hydroponic and Substrate Production, and many more.
The Sustainable Agriculture Technology degree is designed to prepare students for a career in the emerging agriculture technology industry. The course of study will cover all aspects of technology and horticultural study including hydroponics, aquaponics, organic substrate production, GIS/GPS, water and energy conservation, managing data in spreadsheets, computing, and connecting technology tools and data streams on farm.
Students will finish this degree program prepared for careers as precision agriculture technicians, greenhouse managers, hydroponic growers, farmers, ranch or operations managers, first line supervisors for agriculture and horticulture industries, biological technicians, among others. This program is designed for those wishing to go directly into employment in the agriculture, horticulture, and ag tech industries. Students wishing to transfer into four-year programs can study in the Horticulture department with the Agriculture Plant Science Associate of Science degree for Transfer (AS-T).
The financial support to create this degree, revise curriculum, build instructional infrastructure, and provide student support services has been funded by United States Department of Education Title III, Hispanic Serving Institution, Science, Technology, Engineering, Math and Articulation grant award number P031C160032, locally titled, "Sustainability in STEM" and awarded to Cabrillo College for work between 2016 – 2021.
If you're interested in being a community partner for one of our Ag Tech classes' research or service learning projects or in advertising your internships or jobs to Cabrillo Ag Tech students please email Sarah Hulick, Agriculture Technology Specialist, at sahulick@cabrillo.edu.
Please check out our website for more information: http://www.cabrillo.edu/academics/horticulture/agtech.html
###
Tagged agtech, Cabrillo College