Companies
Reflections on Looker-focused SC New Tech Meetup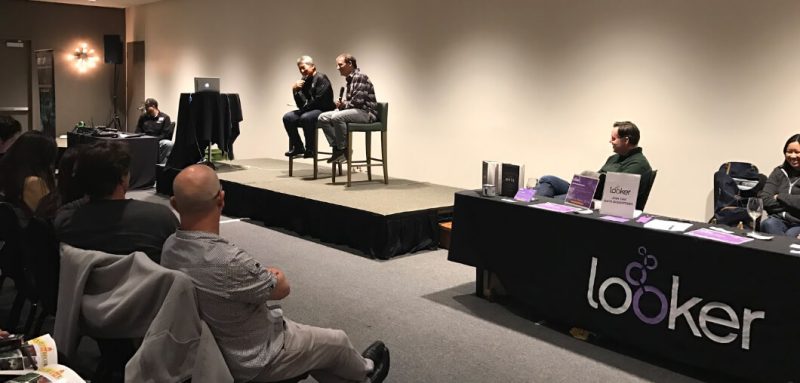 By Jen Rettig
Head of Recruiting, Looker
March 9, 2017 — Santa Cruz, CA
(Photo above: Guy Kawasaki, former Chief Evangelist at Apple, author, entrepreneur, and recent Santa Cruz transplant, and Lloyd Tabb, Looker's Founder and CTO, have a fireside chat at the March 2017 Santa Cruz New Tech Meetup. Source: Looker blog)
On March 1, 2017, we were thrilled to sponsor the Santa Cruz New Tech Meetup at the Hotel Paradox.
New Tech Meetup has chapters all over the world, but you might be surprised to hear that the Santa Cruz New Tech Meetup is not only one of the largest groups with almost 3500 members but also one of the most active groups with monthly events averaging around 500 attendees.
The Looker recruiting team had a great time meeting the vibrant tech community of Santa Cruz.
The entire Meetup was dedicated to Looker and featured not only the Looker leadership team but Looker customers from the non-profit, consumer, and enterprise software sectors. Frank Bien, Looker CEO, kicked off the evening with some stories about Looker's early days, the choice to stay and grow Looker HQ in Santa Cruz, and how Looker fits into the third wave of BI.
Jen Grant, Looker CMO, was up next, explaining why she loves living and working in Santa Cruz and showing off a bit of the fun we have by introducing Santa Cruz to LookVR.
Next up were Looker customers demonstrating how they use data to make decisions and how Looker has helped them build data culture in their organizations.
Jen introduced our first customer speaker of the night, Community Technology Alliance (CTA).
CTA is a non-profit focused on using data to end poverty and homelessness in communities across the United States. Javier Celedon, Project Director, and Sachin Kaushik, BI Analyst showcased one of their newest projects focused on reducing homelessness in right here in Santa Cruz County.
Next up, was Carlin Eng, Data Engineer at Strava. He told stories of how Strava, the social network for athletes, uses data to test new product updates and improve user experience.
Finally, Alison Harmon, Sales Engineer at Asana, explained how Asana uses Looker to address the unique challenges faced by freemium businesses with data.
To end the evening, Guy Kawasaki, former Chief Evangelist at Apple, author, entrepreneur, and recent Santa Cruz transplant, invited Lloyd Tabb, Looker's Founder and CTO on stage for a fireside chat.
###
This article was originally published on Looker's blog with lots more photos.
###
Tagged Looker