Companies
Minority Women Entrepreneurs Share Stories in "From Farms to Incubators"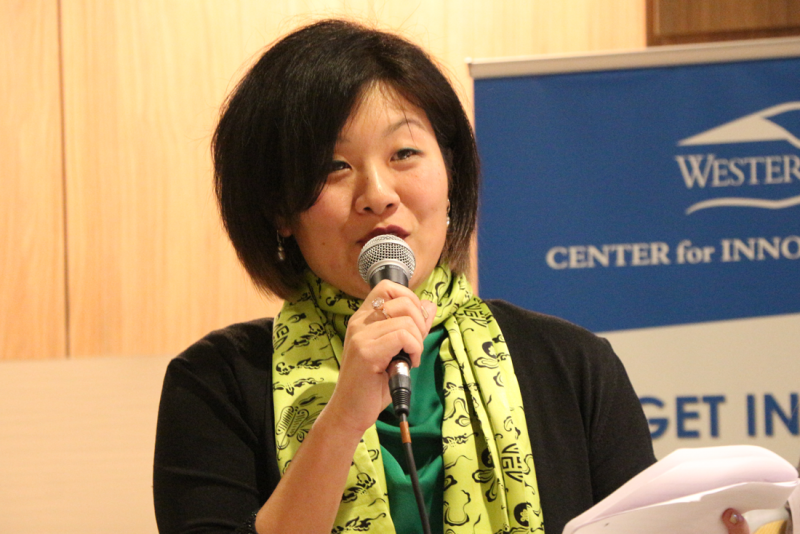 By Jan Janes
Special to Santa Cruz Tech Beat
February 18, 2017 — Salinas, CA
(Photo above: Amy Wu, producer of the multimedia presentation "From Farms to Incubators," welcomes the audience and explains the purpose behind the project. Credits: Jan Janes Media)
The Western Growers Center for Innovation and Technology hosted the premiere showing of a documentary "From Farms to Incubators" on February 16, showcasing stories of minority women entrepreneurs in agtech.
Amy Wu, government and political reporter for the Salinas Californian, produced the profiles portraying a female revolution in the traditionally male-dominated agricultural industry.
"We have this vision of an agtech community and agtech ecosystem," said John Hartnett, President and founder of SVG Partners and THRIVE Ag Tech. In opening remarks to the invitation-only event, he cited data reflecting a 45% growth in women-owned firms during the last decade. "There are 11.3 million women who own businesses in the United States that generated $1.6T in revenue."
"We need to make entrepreneurship a reality for young leaders, focusing on young kids between the ages of 8-16," he said, commending the City of Salinas and Hartnell College for the coder dojo program that has trained more than 2000 kids, 40% of whom are female.
"I love the title of Amy's story," said Dennis Donohue, former City of Salinas mayor and President of Royal Rose. "We think the Innovation Center is serving that purpose. Historically, success in ag has been tied into who owns the land, but the future of ag will be tied into who has the knowledge."
Monterey County Supervisor Luis Alejo noted the range of immigrants who settled the valley, sharing a common history and story as Americans. "These people have become the leaders, the scholars, the entrepreneurs who are creating jobs in the Salinas Valley," he said.
What is the DNA of my salad?
Wu, an East Coast transplant who joined the Salinas Californian as a reporter a year ago, learned about agtech at the Forbes Summit. Her project explored the questions: who are these founders, how many of them are women and how many are minorities? She received grant funding from the International Center for Journalists to produce a multimedia project telling their stories.
"The story is one of innovation, change, transformation and migration," said Wu. "In many cases theirs is also the classic story of every generation trying to create a better life for the next generation." She partnered with Bay Area journalist and videographer Chris Schodt to produce the documentary, premiered Thursday evening. The women described the challenges they face as youthful, female, ethnic minorities in an industry of middle-aged, white males.
After a viewing of the documentary, the six featured women participated in a panel presentation.
Representing agtech incubation
Diane Wu and Poornima Parameswaran, co-founders of Trace Genomics, a comprehensive microbial evaluation for soil health and disease management to prevent losses in yield and profit due to soil borne diseases.
Miku Jha, CEO and founder of AgShift, designed to improve farm profits by simplifying compliance utilizing a software platform optimized for diversified farms.
Jessica Gonzalez, co-founder and CTO of HeavyConnect, a Salinas-based software company offering mobile apps for agriculture eliminating paperwork for time keeping, safety inspections and equipment tracking.
Christine Su, CEO and co-founder of PastureMap, which develops software for ranchers to manage and monitor livestock, soil, pastures and grasslands.
Erica Riel-Carden, a grower, attorney and principal of Riel-Carden Consulting offering legal and business consulting to the agtech industry.
Based on your experiences, why are minority women entrepreneurs so few in ag tech, do you see this changing, and why?
Wu: As you grow up you mirror things around you, but the traditional roles are changing, and very quickly. It's important to try to bring more models and mentorship to women, minorities, showing they can be entrepreneurs.
Parameswaran: The word agtech is a combination of two different terms, agriculture and technology. Traditionally everyone has been groomed to be an expert in one field. So bringing together two different fields is groundbreaking, and the shift is happening in a lot of educational fields as well.
Jhu: People have no idea how much work it takes to grow our food, that's fundamental, and understanding the whole supply chain. We need patience to comprehend the problem, get exposure, get the talent from Silicon Valley in the valley, on the farms, on the trucks, in the fields.
Gonzalez: I stumbled onto ag tech. The only reason to take computer science in college was the need for an extra class. Then it became my academic career. We need to create pathways to make these career decisions happen, make it less of a coincidence.
Su: Women are often socialized to be second. While working in operations data, I wondered how to be the COO, or the second in command at a company. One of my mentors said, "Look, if you want to make decisions, just say you want to be the CEO." It had not occurred to me that was an option. When you see a problem, decide to be the one to build it.
Riel-Carden: Growing up in southern, rural Illinois, I did everything to make sure I wouldn't be in ag. But now, in terms of being entrepreneurial, I've never had a cold call, an entrepreneur who's starting a company, and had it be a woman.
What's next for your company?
Wu: In the last two years we worked with customers to find the best product market fit. Now we are now scaling quite aggressively. Pushing to scale, pushing to hire.
Parameswaran: We learn a lot from our team, and we translate what the growers need into the product.
Jhu: It's exactly the one year mark for our company, bringing automation to growers launched across 50 farms and five different counties in California. We are now bringing in the supply chain side, determining the rate of produce accepted by the markets and working to make the process more constant.
Gonzalez: To use the Nike analogy, which perfected a shoe for Michael Jordan so everyone will want it, we collaborated with growers in the field to streamline our mobile apps for universal appeal. This year we will be scaling up and also launching a new product mid-year.
Su: We launched our beta in 2016, just finished first full year in the market. Two weeks ago we hit 5000 customers in 26 countries and profitability. This year we are looking to examine our user base to do more analytics and benchmarking.
Riel-Carden: After working in incubators and at another law firm, I opened my own practice two weeks ago.
What advice do you have for future entrepreneurs after college, at the BA level?
Jhu: Start your own company! Agriculture is the oldest human enterprise and also the most complex. Don't let that stop you, if it's something you don't know about. As you move along you will find the space and the people who will help you get where you want to go.
Wu: To start your first company is really hard. Intellectually hard, trying to understand all the problems. Most of all it's emotionally hard, especially in the beginning. The thing that separates successful entrepreneurs is often grit. If you're a minority, you're hearing racial slurs, being told you shouldn't study computer science, or in a classroom where a teacher ignores you. We're used to being told no, we're used to being told we can't. The cover of my phone says 'They told me I couldn't, that's why I did.'
Parameswaran: Communication is such an important part of being an entrepreneur. Never pass up an opportunity to talk to people. Every single person we met along the way before we started the company we viewed as a learning experience. Surround yourself with people who will allow you to fail. Also, know the people who give you energy, and spend a lot of time with them.
Su: Don't let anybody tell you that you don't fit. Or don't have expertise. I felt a lot less comfortable in Silicon Valley than in the Midwest or Salinas Valley. There is pattern matching in Silicon Valley that really doesn't add up. They're not looking for someone who looks like you, they're asking questions, and you can tell you're not fitting into the mold. In agtech, go talk to as many farmers and ranchers as you can, learn what their needs are. When you have the data and can back it up, you have confidence.
Riel-Carden: If you're just getting out of school, be open and be patient.
###
If you wish to republish this article, please follow our Terms of Use.
###
Tagged agtech, Salinas, Thrive Accelerator, Western Growers