Companies
The Story of Hearth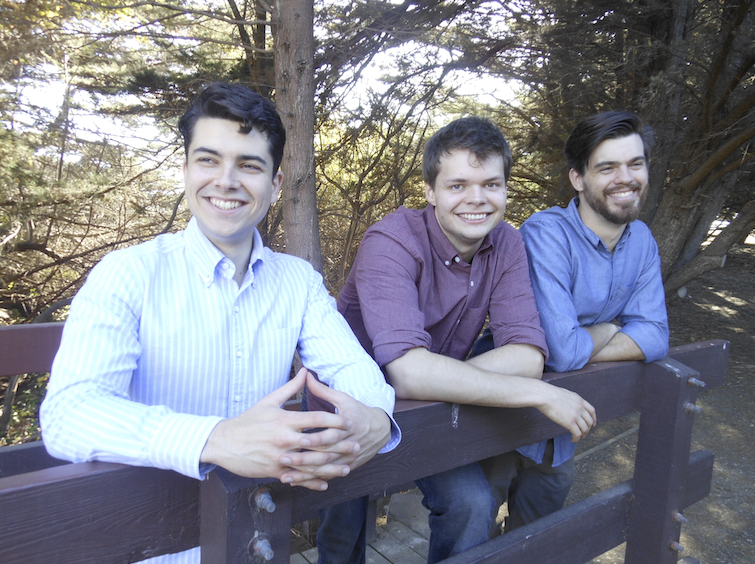 By Jeremy Crowe, Morgan McDermott, John Carlyle
Hearth Cofounders and UC Santa Cruz Computer Science Graduates
Special to Santa Cruz Tech Beat
(Photo above, left to right: Morgan McDermott, Jeremy Crowe, John Carlyle are Hearth's three cofounders. Founders. Credit: Lacey Carlyle)
October 21, 2015 — Santa Cruz, CA
We've got a company, now we need a product
In August 2014, we signed the papers that would lead us down a path of self discovery, innovation, and excitement, but also down a path of doubt, exhaustion, and discouragement. The joys of forming your own company are sometimes outnumbered by your own doubts and insecurities — it is just one of the challenges of founding a startup. After our signatures dried, our company Kaleidos LLC was officially formed and now all we needed was a product.
We met in our final year at UC Santa Cruz in a software development course where we developed an application we nicknamed "Crapper Mapper." It was a silly project that allowed users to add, rate, and comment on bathrooms they had used. Developing the app taught us several things about each other: we don't take ourselves very seriously, we take our work very seriously regardless of its topic, and we never take the easy way out. These discoveries encouraged us to form our own software company right here in Santa Cruz.
The challenges of living with housemates
As college students we experienced first hand the challenges of living with housemates. Half the time you don't see each other and the other half you're working on projects and reports. Keeping the house clean, stocked with communal necessities, and in working order was a challenge. It wasn't an issue of laziness or disrespect; we would forget that it was garbage day, or that the Brita filter should be changed. Keeping a list of duties consistently fell through, and leaving notes tended to be more passive-aggressive than useful.
Hearth app is born
This is why we created our first product, Hearth, which aims to aid housemates, families, and couples living together. In a single place you can track and add new chores, to-dos, bills, payments, shopping lists, announcements and much more. Hearth's intention is not to replace good ol' fashioned face-to-face communication, but to supplement the tedious necessity of organizing and assigning tasks around the house. You never have to tell friends that you've taken out the trash the past two months while they've been watching Netflix; Hearth simply tells them it's their turn. The goal is to encourage good communication between people that may be extraordinarily busy.
The development of Hearth has had its share of difficulties, both technical and non-technical. As a team we found developing our own systems much more rewarding than using pre-made packages. This led us to spend much of our early months working on our own analytics server, load balancer, push notification server, websocket server, and many front end modules. For the most part all software has been developed in-house. This ideology has been both a blessing and a curse. It led us to learn and understand the complexities of our software much more thoroughly than a company that plugged in pre-made components. However, we also spent much of our development time recreating the wheel.
There's more to it than programming
As three computer science grads we were able to tackle the technical challenges with confidence, but when it came to marketing, paying taxes, writing guest feature articles (ahem…), or considering bringing on interns or new hires, we struggled and continue to do so. Wrestling with unfamiliar concepts and having the confidence, or gumption, to face them all has strengthened us as a company and as cofounders. We are honored for the opportunity to develop a service we believe brings utility to people and that challenges us as individuals and technical professionals. Santa Cruz is an ideal place for tackling these challenges.
Santa Cruz is part of our story
We had many objectives when we formed Kaleidos, and continue to pursue most of them. First and foremost we want to bring utility to people. We aren't some Silicon Valley startup claiming that we are "changing the world". Hearth isn't going to change the world, but it may make your lives a little easier. That's the goal. We aim to make Kaleidos a Santa Cruz focused company. While we are only three individuals now, we have every intention to expand while maintaining our small town Santa Cruz essence. We aim to offer internships and mentorship opportunities to University students along with local elementary and high school students as we continue to grow. We stand on the shoulders of those that came before us, and offering our shoulders in return is the least we can do to thank everyone that has played such an important part in our journey.
Santa Cruz is part of our story and we hope that Hearth and Kaleidos will be a part of Santa Cruz's story.
Learn more about Hearth at https://hearthapp.net
###
If you wish to republish this article, please follow our Terms of Use.
###
Tagged UC Santa Cruz