Companies
Inboard: M1 Firmware v2.0 – The Torque update!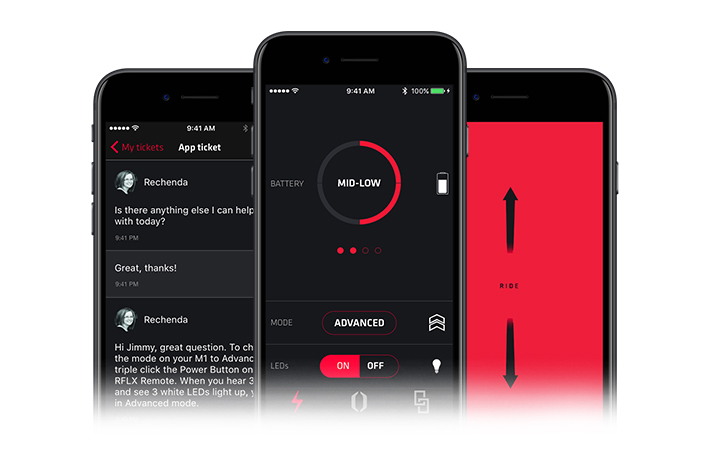 (Inboard blog)
January 18, 2017 — Santa Cruz, CA
Two days ago we released a new firmware update for the M1 which we mentioned during CES! The new app version is 1.0.3 and the firmware is v 2.0. This latest update makes your riding experience even better! Here are the key features of this new release:
Increased torque for better acceleration and hill climbing. The M1 will now utilize a steeper acceleration curve, which means riders will experience improved off-the-line acceleration and better uphill performance, especially at lower speeds.
Idle PowerShift battery life extended. This fix addresses a bug where the M1 would prematurely drain a connected PowerShift battery, even when the M1 was off. This fix significantly reduces idle M1 battery drain, but does not completely eliminate it. We still recommend completely removing the PowerShift battery when the M1 is not in use, especially for long periods of time.
PowerShift battery charge level reporting improved. This fix improves the accuracy of measuring the remaining charge in your PowerShift Battery and also fixes a bug that was generating false low battery warnings in certain riding situations.
More consistent top speed for all riding modes. This fix improves the regulation of maximum speed in all three riding modes while riding on a flat surface.
Other minor improvements and bug fixes.
This new firmware update will be available in the Apple App store on Monday morning (1/16/17). For customers with Android phones, you may want to borrow a friends iPhone to install this update. We are still working on an Android version of our app, but it will not be available for today's update.
You can download the update in the Apple App Store right now.
Continue reading this article here: https://inboardtechnology.com/blog/2017/1/15/m1-firmware-update-12-torque-update
###
Tagged Inboard Technology