Companies
Dovetail announces commercial launch of new sequencing and assembly service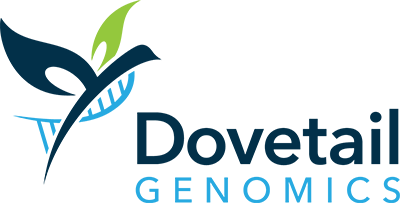 (Contributed)
January 18, 2017 — Santa Cruz, CA
Dovetail Genomics has announced the commercial launch of its new Dovetail™ Hi-C sequencing and assembly service, which yields chromosome-scale genome assemblies. The service is available immediately and will be presented in a Dovetail-hosted workshop on Jan. 17 at the Plant & Animal Genome conference (PAG XXV) in San Diego.
"We are thrilled to be expanding our menu of services with the launch of our Dovetail Hi-C offering," said Todd Dickinson, Dovetail's CEO. "Our new Dovetail Hi-C assembly service dramatically improves researchers' insight into their genomes of interest. As a result, we are enabling more powerful comparative studies for better understanding of genomic structure and organization of regulatory elements – this will be a great aid for crop and livestock improvement studies."
The new Dovetail Hi-C service, which generally improves the utility of assemblies, is well suited to meet the needs of researchers who require high-quality genomes, particularly those that will become community references. Dovetail Hi-C libraries also enable researchers to look at biological signals and chromosome rearrangements through the lens of in vivo chromatin interactions.
Cost for the service varies based on genome size and services requested. For pricing on a specific project, please reach out to orders@dovetail-genomics.com. Dovetail continues to offer its HiRise™ service based on the company's flagship Chicago assembly method. Running Chicago and Dovetail Hi-C, together with HiRise analysis, results in a level of combined accuracy and contiguity that is unprecedented in genome assembly today.
Dovetail Hi-C at PAG
There will be a several of presentations over the course of PAG XXV by researchers who have used the technology to improve a variety of assemblies, including presentations by Dario Grattapaglia, Senior Research Scientist with the Brazilian Agricultural Research Corporation; Allen Van Deynze, Director of Research for the Seed Biotechnology Center at UC Davis; and Dan Rokhsar, Professor of Genetics, Genomics and Development at UC Berkeley, Chief Informatics Officer and Eukaryote Super Program Head at the Joint Genome Institute.
About Dovetail Genomics
Dovetail Genomics LLC is transforming genomics by making long-range information readily accessible to all. The company enables researchers and clinicians to solve complex problems involving de novo assembly, structural variation, microbiome analysis, cancer research, phasing analysis and more by providing them a more comprehensive view of the genome. Its proprietary in vitro proximity ligation approach simplifies genomic discovery by integrating the highest quality long-range genomic information with next-gen sequencing output. Dovetail is based in Santa Cruz, California. For more information on Dovetail, its technology, and service offerings, visit dovetailgenomics.com. Follow Dovetail on Twitter @DTGenomics.
###
Tagged Dovetail Genomics