Companies
Dovetail Genomics and Illumina to Co-Market Dovetail's Full-Service Genome Assembly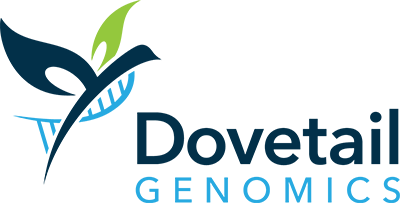 (Contributed)
September 14, 2016 — Santa Cruz, CA
Dovetail Genomics LLC today announced it has signed a co-marketing agreement with Illumina for the promotion of Dovetail's genome sequencing and assembly services for long-range sequencing applications leveraging Illumina sequencing technology.
Dovetail's in vitro proximity ligation-based Chicago ™ libraries, prepared for Illumina platforms, generate read-pairs that span genome distances up to the maximum size of the input DNA. Using the Chicago data and a draft assembly, the company's HiRise ™ software pipeline identifies and breaks misjoins in the draft assembly and then iteratively joins contigs and scaffolds into a final assembly, resulting in as much as 200x improvement in scaffold contiguity.
"Illumina's accurate, high-throughput sequencing solutions coupled with Dovetail's proprietary Chicago libraries are providing our customers with a powerful and affordable long-range genome assembly solution," said Todd Dickinson, Dovetail Genomics' Chief Executive Officer. "Since launching our services in October of last year, we have produced assemblies for more than 100 different organisms, driving increased access to and use of reference-quality genomes. We are thrilled to partner more closely with Illumina to further expand our market reach as we continue to grow our business."
"Our new co-marketing relationship with Dovetail Genomics enables us to continue growing the ecosystem around Illumina's powerful sequencing technology for long-read applications," said Christian Henry, Illumina's Executive Vice President and Chief Commercial Officer. "Dovetail offers a proven research use only solution for long-range sequencing. Their assembly services produce accurate and highly-contiguous genome assemblies, meeting an essential requirement for many of our customers."
The two companies will begin co-marketing the Dovetail genome assembly service immediately.
About Dovetail Genomics
Dovetail Genomics LLC is transforming genomics by making long-range information readily accessible to all. The company enables researchers and clinicians to solve complex problems involving de novo assembly, structural variation, microbiome analysis, cancer research, phasing analysis and more by providing them a more comprehensive view of the genome. Its proprietary in vitro proximity ligation approach simplifies genomic discovery by integrating the highest quality long-range genomic information with next-gen sequencing output. Dovetail is based in Santa Cruz, CA. For more information on Dovetail, its technology, and service offerings, visit dovetailgenomics.com. Follow Dovetail on Twitter @DTGenomics.
###
Tagged Dovetail Genomics