Companies
Cruzio: 2016 in Review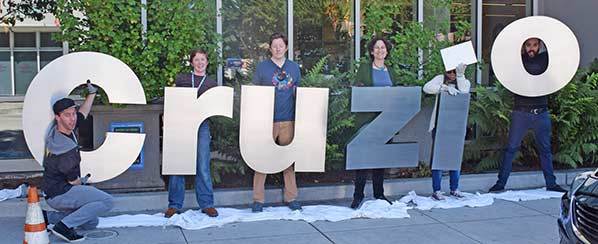 By Brian Bishop
Cruzio Sales and Marketing Associate
January 18, 2017 — Santa Cruz, CA
2016 has been a wild ride for us here at Cruzio Internet. It's been a year of growth and action for us, as we expanded our network to be better than it's ever been before, and prepared ourselves for one of our most important projects yet. Now that the year is almost over, we wanted to give all of you a look back at the last 12 months at Cruzio, and peek at what lies ahead for 2017.
We announced the beginnings of the Santa Cruz Fiber project
Probably the biggest project on everyone's minds here is the grand step we're taking to bring the future of internet to Santa Cruz County: Santa Cruz Fiber. Early this year, we announced the beginning of the project, with the goal of providing affordable, next generation broadband to every home and business in the city of Santa Cruz.
Over the course of the year, we've teamed up with a number of different organizations to take the bold step towards a "fiber future" early next year. We announced that the first part of the project will be bringing gigabit speeds to around 1000 homes and businesses in Downtown Santa Cruz, then expanding outward from there. And if YOU want to be a part of bringing gigabit internet to Santa Cruz, you can fill out our survey here!
We made our growing network bigger than ever
It's been a year of expansion and exciting firsts for our hybrid fiber-wireless broadband network. In July, we launched the first commercially-available gigabit service in Santa Cruz. At 1000 Megabits per second, that's way, way faster than anything else available! "This has been our goal for the last few years," said Cruzio's Director of Technology & Infrastructure, Chris Frost. "We've been rapidly deploying the latest in new technology and have been able to get speeds up to this benchmark level quicker than even I hoped."
A couple of months earlier, in partnership with Siklu and the City of Santa Cruz, we were able to upgrade 15 buildings to gigabit speeds. The Tannery, Loudon Nelson, the Civic Center, City Hall and the Riverwalk Apartments are all among the buildings that  have the fastest internet in Santa Cruz. Along the way, we've also added dozens of great local businesses to our network, including Santa Cruz Shakespeare, Somagenics, Fullpower Technologies, and the Watsonville Film Festival.
We got a new sign!
Cruzio's HQ at the old Sentinel Building has been a downtown landmark for years of course. But in September, we became even easier to find with the addition of our shiny, beautiful new silver sign. You may have seen it if you've taken a stroll along Cedar Street.
Our Business Broadband service turned out to be faster than we thought
When describing our Business Broadband service earlier this year, we underestimated our own capabilities. We described the service as getting "up to 30 megabits per second" in speed. As it turns out, and as you can see in the graph above, most users are actually getting 50 megabits or more…with a good number getting as much as 90! As we look toward our fiber future, it's worth remembering that fiber already exists in Santa Cruz through our various other products, including our hybrid wireless-fiber network. We're already using fiber technology to bring in excellent speeds like these to people throughout Santa Cruz County. Fill out an inquiry here to find out if you're eligible.
We Fought to Stay Connected during the Loma Fire
Continue reading article here: http://cruzio.com/2016/12/2016-at-cruzio-fiber-fire-and-faster-internet/
###
Tagged Cruzio