Companies
ISP Cruzio Honored as Small Business of 2015 for Assembly District 29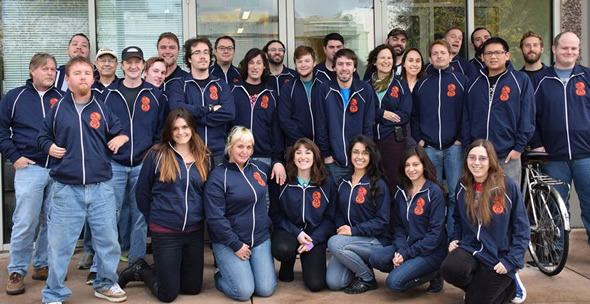 By Sara Isenberg
Founder, Publisher, Editor-in-Chief of Santa Cruz Tech Beat
(Image above: Cruzio is 100 percent locally owned and staffed. Contributed.)
June 11, 2015 — Santa Cruz, CA
Mark Stone, Assembly member (D-Monterey Bay) has awarded locally-owned and operated ISP Cruzio with the 2015 Small Business of the Year designation for the 29th Assembly District.
Cruzio serves over 9000 businesses and homes in Santa Cruz County, making it one of the largest independent ISPs in California. Cruzio was co-founded by Peggy Dolgenos and Chris Neklason, both of whom continue to own and operate the company today.
"I'm pleased to honor the company as the 2015 Small Business of the Year for my Assembly District," said Stone.  "As a major contributor toward increasing local Internet infrastructure, Cruzio is leading the way for helping make Santa Cruz County a leader for technology and entrepreneurism."
Cruzio recently introduced previously unavailable enterprise-level Internet services to Santa Cruz County, representing a huge investment in the Santa Cruz community. The company provides Internet and technology services for more than 2000 local businesses and currently operates more than 40 free wifi hotspots in Santa Cruz County. Cruzio provides services in Spanish and English, and donates services to dozens of local nonprofit and government organizations.
"We are so excited for the recognition, and prestige that comes with accepting this award," said Cruzioworks Lead Andrew DiMarzio.
###
Tagged Cruzio