Companies
Driscoll's berries becomes THRIVE corporate partner to activate startup technologies across GLOBAL value chain

(Contributed)

December 22, 2016 — Palo Alto, CA
SVG Partners announced today that the global berry brand Driscoll's, has joined the THRIVE ecosystem as a corporate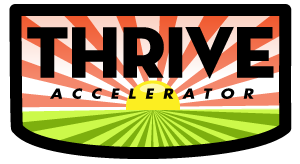 partner. After a year of working with startup companies as a mentor in the THRIVE Accelerator Program, the Driscoll's partnership extension signifies the company's continued commitment to supporting and collaborating with agtech startups and partners. The partnership between SVG Partners and Driscoll's will work to integrate cutting edge agriculture technologies into the berry brand's global value chain.
"Being able to work with external partners like THRIVE and its growing network of startups is very important to what we do," said Nolan Paul, Head of R&D Strategy & Emerging Technology at Driscoll's. "The program was an ideal fit for Driscoll's, as the companies that THRIVE identifies and vets are strategic to our mission to grow and deliver great tasting berries to consumers". As a mentor during THRIVE's 2016 accelerator class, Driscoll's engaged with nearly half of the companies within the cohort to match and interface the new technologies to particular areas within its supply chain.
Especially in California, where Driscoll's Berries is headquartered and grows much of its berry crop, agriculture faces mounting labor and land shortages, drought, and an exacting regulatory environment. These factors made THRIVE AgTech's strong network within California's farming regions of paramount importance to Driscoll's Nolan explains, "being able to tap into THRIVE's local agtech ecosystem helps us find startups that are most relevant to us, and connects us into a network of players who really understand and are willing to address local, regional problems".
"For our company, technology is helping steer us into the future," said Kevin Murphy, CEO of Driscoll's. "The network that THRIVE has cultivated is strategic to helping us quickly identify, test, and iterate innovations on the frontline for our network of independent growers." Murphy will speak to the company's strategic partnership and more broadly, to the evolution of Driscoll's in a rapidly transforming industry on February 1, 2017, as a headline speaker at the THRIVE Innovation Forum.
"After a successful year working with the Driscoll's team, we are delighted to welcome them aboard as a corporate partner of the THRIVE Startup platform, joining our headline partners Land O' Lakes, Verizon, Western Growers, Well's Fargo, Taylor Farms, City of Salinas, Panasonic, Yamaha, and JV Smith Companies. It is through partnerships with Driscoll's and others which help THRIVE grow the connections and capacity of its global AgTech ecosystem and enable us to work with organizations that are intimately familiar with the pain points of agriculture," said SVG Partners founder John Hartnett.
ABOUT DRISCOLL'S
Driscoll's is the global market leader of fresh strawberries, blueberries, raspberries and blackberries. With more than 100 years of farming heritage and hundreds of independent growers around the world, Driscoll's is passionate about growing great tasting berries. Driscoll's exclusive patented berry varieties are developed through years of research using only natural breeding methods.

ABOUT SVG PARTNERS
SVG Partners is an investment, technology and advisory firm that partners with organizations on strategy, innovation and global expansion. SVG's experience team of senior technology leaders and venture capital investors have worked with global corporations and scaling companies to drive competitive advantage from strategy to implementation. Through its accelerator and open Innovation programs, engineering and development services, and executive strategy and advisory, SVG Partners helps build and scale innovative technology companies worldwide. SVG Partners is based in Silicon Valley, CA.  www.svgpartners.com
ABOUT THRIVE AGTECH
THRIVE AgTech's is a vibrant AgTech ecosystem with the mission to connect the expertise of tech companies, to on-the-ground knowledge of agricultural companies, the financial backing of investors, and the entrepreneurs solving problems in the agriculture sector. THRIVE unites these communities in order to drive the development and adoption of sustainable technology enhancements necessary for securing the global food demands of the future. The THRIVE program targets two stages of companies, the very early to commercially ready. Early stage companies accepted into the program go through a rigorous bootcamp and receive mentorship from industry leaders to help them scale their companies. THRIVE's Open Innovation program directly connects corporate partners with high growth startups to trial and deploy cutting edge technologies.
###