Companies
Nominations are now open for THRIVE AgTech Top 50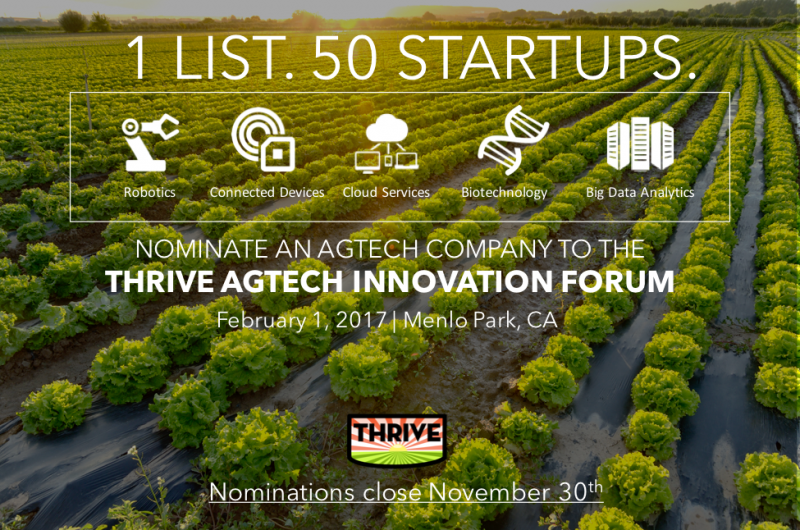 By Mareese Keane
Program Manager, THRIVE AgTech
November 16, 2016 — Menlo Park, CA
Nominations are now open for the THRIVE AgTech Top 50. Nomination Deadline is November 30, 2016
In the past several years, AgTech's ascent has been nothing short of impressive. Across the thousands of companies developing ag and food tech, investment has doubled- reaching $4.6B in 2015.
In recognition of the tremendous work of AgTech Entrepreneurs, THRIVE is compiling a THRIVE TOP 50 LIST of AgTech companies with product in-market and scale-ready- and we need your help!
Based on the industry pain points defined in collaboration with our corporate agriculture and tech partners, we are targeting technologies in the following categories:
Biotech (with a strong data analytics play)
Connected devices
Automation/robotics
Big data analytics
Cloud services
Once selected, THRIVE Top 50 startup companies will benefit from the following:
Ticket to Open Innovation Forum (February 1, 2017 in Menlo Park, CA), a $500 value
Profiled in the SVG Partners Investment Magazine and global marketing outreach to THRIVE's community
Face-to-face corporate partner meetings on Feb. 1
###
Source:  THRIVE AgTech.
###
Tagged agtech, Thrive Accelerator