Companies
Forbes Ag Tech Summit returns to Salinas June 2017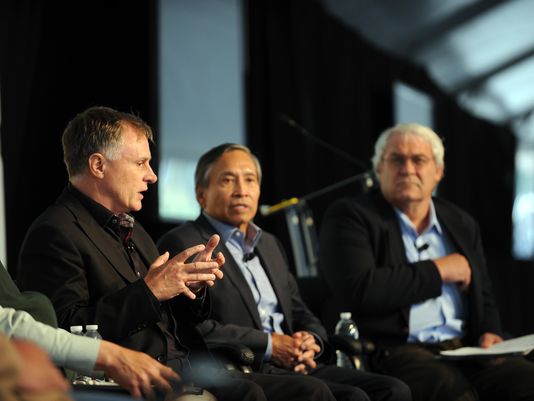 By Amy Wu
The Californian
November 3, 2016 — Salinas, CA
(Photo above: From left, John Hartnett, of SVG Partners, Ray Corpuz, Salinas city manager, and moderator Dennis Donohue share their insights in the "Reinventing Salinas" panel at the 2016 Forbes AgTech Summit. Credit: Jay Dunn)
The Forbes AgTech Summit will return to Salinas for a third time in June 2017.
The information was shared by key members of the city of Salinas at the annual Greater Vision event recently at California State Monterey Bay's College of Business. Greater Vision is a free annual educational program that addresses timely issues facing the agricultural industry, and this year's theme was "Labor in Agriculture & the Role of Technology."
Andy Myrick, economic manager for the city of Salinas, confirmed that the Summit will be held on June 28-29, 2017 in Salinas.
"We are excited to once again be able to host this great event that places Salinas at the center of the AgTech world," Myrick said. "We expect that this will again benefit our region by allowing us to attract more new startup companies and provide our local businesses with access to some of the latest technologies available, allowing them to continue to prosper in the global economy."
Christina Vega, a publicity manager for Forbes in New York, said the company has not made an official announcement or confirmed its 2017 calendar.
Continue reading article here: http://www.thecalifornian.com/story/news/local/2016/10/26/forbes-ag-tech-summit-round-three/92786912/
###