Companies
Dovetail Genomics Adds PacBio SMRT Sequencing and Assembly to Its Services Menu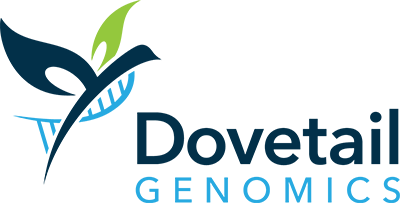 (contributed)
September 23, 2016 — Santa Cruz, CA
Dovetail customers can now incorporate PacBio's Single Molecule, Real-Time (SMRT) long-read sequencing into their genome assembly projects; companies to co-market Dovetail offering
Pacific Biosciences of California, Inc., (Nasdaq:PACB), and Dovetail GenomicsTM LLC today announced that Dovetail has added PacBio® SMRT® sequencing and de novo assembly options to its menu of genome assembly services. The companies also announced their signing of a co-marketing agreement under which the new service offerings will be jointly promoted.
"We are impressed by Dovetail's continued commitment to deliver the most comprehensive view of genomes," said Kevin Corcoran, Senior Vice President of Market Development at Pacific Biosciences. "Until now, Dovetail has focused exclusively on short-read NGS data, so we are pleased to see the addition of our long-read SMRT Sequencing technology to their service offering, and to partner with Dovetail to provide the best possible genome assemblies to the scientific community."
"The addition of these services is in direct response to our customers' needs," said Brandon Rice, Dovetail Genomics' Chief Operations Officer, "so we are excited to provide this option for our customers who need, or simply prefer, a long-read sequencing approach for their genome assembly projects."
PacBio SMRT Sequencing delivers long read lengths with high consensus accuracy and uniform coverage, allowing scientists to go beyond fragmented draft genomes and generate the most comprehensive de novo assemblies. Dovetail found through its services that its approach to scaffolding with ChicagoTM libraries and its HiRiseTM scaffolding pipeline are highly complementary to PacBio-based assemblies. This new offering is especially valuable to scientists working on highly repetitive, polyploid genomes that are challenging to resolve with short-read sequencing alone.
The two companies will begin co-marketing the Dovetail service offering immediately. Interested parties can learn more at https://dovetailgenomics.com/services/.
About Pacific Biosciences
Pacific Biosciences of California, Inc. (NASDAQ:PACB) offers sequencing systems to help scientists resolve genetically complex problems. Based on its novel Single Molecule, Real-Time (SMRT®) technology, Pacific Biosciences' products enable: de novo genome assembly to finish genomes in order to more fully identify, annotate and decipher genomic structures; full-length transcript analysis to improve annotations in reference genomes, characterize alternatively spliced isoforms in important gene families, and find novel genes; targeted sequencing to more comprehensively characterize genetic variations; and real-time kinetic information for epigenome characterization. Pacific Biosciences' technology provides high accuracy, ultra-long reads, uniform coverage, and is the only DNA sequencing technology that provides the ability to simultaneously detect epigenetic changes. PacBio® sequencing systems, including consumables and software, provide a simple, fast, end-to-end workflow for SMRT Sequencing. More information is available at www.pacb.com.
About Dovetail Genomics
Dovetail Genomics LLC is transforming genomics by making long-range information readily accessible to all. The company enables researchers and clinicians to solve complex problems involving de novo assembly, structural variation, microbiome analysis, cancer research, phasing analysis and more by providing them a more comprehensive view of the genome. Its proprietary in vitro proximity ligation approach simplifies genomic discovery by integrating the highest quality long-range genomic information with next-gen sequencing output. Dovetail is based in Santa Cruz, California. For more information on Dovetail, its technology and service offerings, visit dovetailgenomics.com. Follow Dovetail on Twitter @DTGenomics.
###
Tagged Dovetail Genomics