Companies
Tech startups Slick, Impact Scorecard lured to Santa Cruz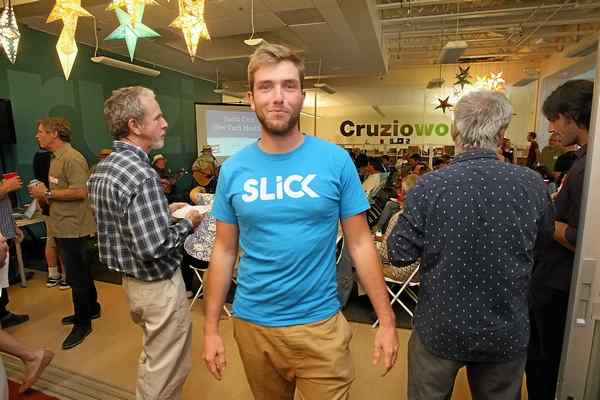 By Jondi Gumz
Santa Cruz Sentinel
September 9, 2016 — Santa Cruz, CA
(Photo above: Thomas Agaraté, 24, a native of France, started Slick Video in Santa Cruz, raising $450,000 on Indiegogo from backers wanting his GoPro stabilizing accessory to film action sports. Credit: Dan Coyro)
In France, Thomas Agaraté won awards as an engineering student for his inventions and started his own drone company. So why did the 24-year-old engineering wiz come to Santa Cruz to launch his startup?
Three words: Action sport hardware.
He likes to paraglide. His co-founder likes to kite-surf.
On Wednesday, he told more than 250 people at the Santa Cruz New Tech MeetUp about his latest invention, an accessory for GoPro camcorders that replaces a jumpy video with a smooth-as-silk views. He calls it Slick.
"It solves one of the last problems in capturing action sports," he said, describing the user experience offered by competitors as "terrible."
His Indiegogo campaign — with a video showing improvements with Slick — raised $450,000 before closing in October. He garnered nearly 2,400 backers, some who paid $179, $199, $209 and $219, getting discounts off the retail price of $299.
With a small team, five including himself, working out of a location on the Santa Cruz Eastside, the task is deliver the product by March to those backers.
The hardware will be manufactured in Asia, he said, with assembly planned for the U.S.
Asked if he would trying selling Slick to GoPro, Agaraté said, "We want to sell to the mainstream market first."
Startup Impact Scorecards, a tool to help business owners when profits fall short of projections, moved to Santa Cruz from Washington.
"My wife surfs, I like to bird-watch," explained founder David Apgar,
"When results disappoint, nine out of 10 of us work harder … but we don't stop to ask, 'Is there an easier way?'" he said. "You don't know if the problem if poor execution or if you're missing a driver… Often you're missing a driver other than the one identified."
Continue reading article here: http://www.santacruzsentinel.com/lifestyle/20160908/tech-startups-slick-impact-scorecard-lured-to-santa-cruz
###