Companies
Perfect for the new Apple iPhone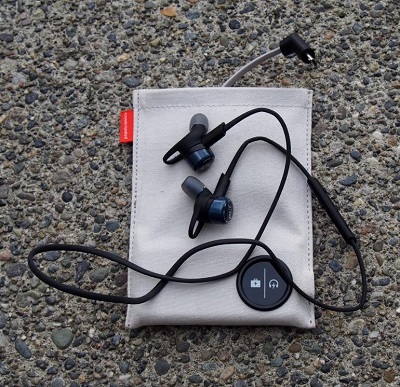 By Matthew Miller
ZDNet
September 8, 2016 — Santa Cruz, CA
(Photo above: The Plantronics BackBeat GO 3 is the latest generation Bluetooth headset designed to provide a wireless music experience. Source: Plantronics website.)
Hands-on with the Plantronics BackBeat GO 3 and Voyager 5200 headsets: Perfect for the new Apple iPhone
Apple revealed yesterday (9/7/16) that the new iphone will no longer include a 3.5mm headphone jack. Wireless headphones may become more popular and Plantronics offers a selection of options for different usage scenarios.
For a few years, many thought people wearing Bluetooth headsets looked dorky or that they considered themselves more important than they really were. With today's advanced Bluetooth audio technology, combined with intelligent smartphone assistants and hands-free laws, a good quality headset is an essential business tool.
Last month Plantronics reached out to see if I wanted to evaluate the newest Voyager 5200 headset launched earlier this year, along with the BackBeat GO 3 since I enjoy podcasts and music on my two plus hour daily train commute. They are both great quality headsets with different target audiences. After a couple weeks of use, I favored one much more than the other.
Plantronics provides a number of Bluetooth headphone solutions with a different focus for each model. It also offers corded headsets, speakerphones, and more.
There is some crossover between lifestyle needs, but in general Plantronics Bluetooth headsets appear as the BackBeat FIT line for sports, the BackBeat GO for music, gaming, and entertainment, and the Voyager for mobile communications.
Plantronics BACKBEAT GO 3
The BackBeat GO 3 is the latest generation Bluetooth headset designed to provide a wireless music experience. While the two earbuds, a controller between the connecting wire, and Bluetooth integration are similar to the previous generation, the earbud system is entirely new and was developed after Plantronics further studied the anatomy of the ear.
Continue reading article here: http://www.zdnet.com/article/hands-on-with-the-plantronics-backbeat-go-3-and-voyager-5200-headsets-perfect-for-the-new-apple/
Plantronics VOYAGER 5200
My typical daily commute includes riding the Sounder commuter train with a walk from and to the train station in Seattle for about a mile along the Alaskan Way viaduct. This is a raised roadway that is packed with cars traveling at high speeds and thus my practice for the last several years has been to never make or accept calls during this period of walking. If I end up purchasing the new Plantronics Voyager 5200 I can add that time to my available calling hours.
Continue reading article here: http://www.zdnet.com/article/hands-on-with-the-plantronics-backbeat-go-3-and-voyager-5200-headsets-perfect-for-the-new-apple/
###
Tagged Plantronics