Companies
Seeking judges for annual SC County Science & Engineering Fair to be held at Plantronics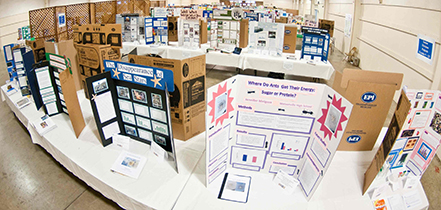 (Contributed)
February 13, 2019 — Santa Cruz, CA
Budding scientists to show off their latest discoveries at annual K-12 event to be held at Plantronics
On Saturday March 2, 2019, more than 400 budding K–12 scientists and engineers from all over Santa Cruz County will travel to the Plantronics headquarters to participate in the 31st annual Santa Cruz County Science and Engineering Fair.
The largest indoor office space of the Plantronics campus will transform into a bustling area of ideas, inventions, discoveries and collaboration where children and teens will present their special projects and show-off their problem solving and innovation skills.
"We are excited to be an integral part of this Science & Engineering Fair and other STEM focused initiatives, helping to create opportunities and improve equity and access for our next generation,"  Helen Wight, Plantronics Global Philanthropy
Together with other leaders in the Santa Cruz community, Plantronics executive staff and employees will attend to listen, encourage and share their knowledge.
'Junior Pathfinder' awards will be presented by Plantronics to those whose efforts reflect problem-solving, innovation and collaboration. According to Wight, "the Pathfinder award is our employee recognition for innovation, customer service, problem solving etc. In 2018 we began awarding our 'Junior Pathfinders' for similar values shown by the SC County Science and Engineering Fair students."
The fair is open to the public on Saturday, March 2, 5-6pm. Plantronics is located at 345 Encinal Street, Santa Cruz.
Please click here if you are interested in joining the Science and Engineering Fair judges team.
###
Tagged Plantronics, Santa Cruz County Science and Engineering Fair