Companies
Plantronics CEO Ken Kannappan to retire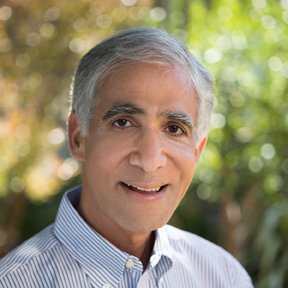 (Contributed)
August 2, 2016 — Santa Cruz, CA
(Photo above: Ken Kannappan, Plantronics president and CEO, will retire at the end of the second quarter of the company's fiscal year. Source: LinkedIn)
Board Names Joe Burton President and Chief Executive Officer
Plantronics today announced that Ken Kannappan, president and chief executive officer, will retire as CEO at the end of the second quarter of the company's fiscal year. Joe Burton, Plantronics executive vice president and chief commercial officer, will become president and chief executive officer effective Oct. 2, 2016.
Since joining Plantronics in 2011 as chief technology officer and senior vice president of corporate strategy, technology and development, Burton has been an integral part of Plantronics leadership team, working closely with Kannappan to develop and execute the company's strategic direction. He has led Plantronics growth in Unified Communications (UC) and the company's conversion to a mix of hardware and software offerings that are the foundation for Plantronics future success.
A year ago, Burton was appointed chief commercial officer responsible for establishing Plantronics overarching technology and product strategies and leadership of the company's global engineering, marketing, sales, and product teams.
"Joe is a dynamic technology evangelist who is expert at envisioning key innovations and bringing them to market with solutions that improve people's lives," Kannappan said. "His deep knowledge of the industry, his many contributions to Plantronics, and his passion for our company and its employees, customers and partners, make me highly confident in his ability to continue driving Plantronics growth and success."
Since Kannappan joined the company in 1995, Plantronics has transformed from a manufacturer of contact center headsets with annual revenues of just over $100 million to a global leader in audio communications for businesses and consumers with annual revenues of approximately $856 million.
Today, Plantronics designs develops and produces a broad set of mono and stereo solutions for customer support centers, mobile workers, gamers, fitness enthusiasts and anyone seeking uncompromising quality and a great experience.  Innovations pioneered by Plantronics during Burton's tenure include sensor technologies that enable people to manage their conversations seamlessly wherever they are, software that enables IT managers to easily manage and upgrade capabilities on their company's headsets from a single dashboard, and new call analysis capabilities that enable enterprise customer support centers managers to collect data insights that can improve customer service and drive job satisfaction for customer support representatives.
"Plantronics is incredibly well positioned for the future," Burton said. "We are focused on strategic opportunities that will continue to maximize our team's deep knowledge and experience in acoustics technology to solve customer problems."

"There couldn't be a more exciting time to be at Plantronics and I'm committed to ensuring its enduring success," Burton said. "We have a great global team and a solid business strategy, and I'm looking forward to continue stretching the boundaries of what is possible for our customers while building shareholder value."
To transition his duties after his retirement as CEO, Kannappan is expected to remain employed as Executive Vice Chairman reporting to Burton for one year. After that, he will serve as a consultant to Plantronics for 18 months.
Joe Burton's background
Burton joined Plantronics in 2011 from Polycom, where he was executive vice president, chief strategy officer, chief technology officer and general manager of its service provider business. Prior to that, Burton spent 10 years at Cisco Systems, where as vice president and CTO, he led the teams responsible for Cisco's Unified Communications and Software as a Service (SaaS) technical strategy. Previously he was chief architect at Active Voice Corp. and an architect at Bass Inc. Burton is the author of several communications patents.
He is currently a member of the board of directors for the Dominican Hospital Foundation in Santa Cruz.
Burton holds a Bachelor of Science degree in Computer Information Systems from Excelsior College (formerly Regents College) and has participated in executive programs at Stanford University.
###
Tagged Plantronics