Companies
Fuzz Stati0n, Slick, Tiny Garage, Futbol Connect, Impact Scorecards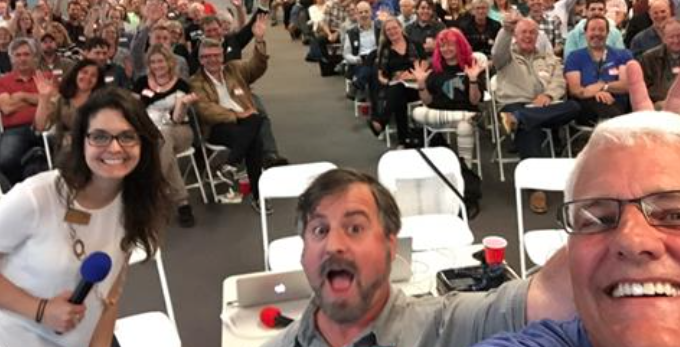 (Source: meetup.com)
August 25, 2016 — Santa Cruz, CA
(Photo above: Amanda Rotella, Tom Padula, and Doug Erickson take a selfie at the Santa Cruz New Tech Meetup last June. Contributed.)
Here's the Santa Cruz New Tech Meetup lineup for September
Let us bid farewell to the month of August, aka "Fog-gust", and welcome a sunlit lineup for September 7, 2016. RSVP now.
Our Community Announcements will be Jake Metcalf of Ethical Resolve. He will discuss how companies can make actionable, consistent, ethics-driven business decisions.
For our Company Presentations, we have an intriguing group:
Learn about hot new technologies and mingle with 250+ fellow entrepreneurs, investors, bloggers, and tech enthusiasts.
This event is always packed, so be sure to RSVP early. Doors open at 6:00pm, presentations start at 7:00pm. Entry fee is $10 (pay at the door), and includes food, beverage, and LIVE MUSIC. RSVP now.
###
Tagged Santa Cruz New Tech Meetup