Events
July 9 Santa Cruz New Tech Meetup is dedicated to Pitch Sessions
by Doug Erickson
Santa Cruz New Tech Meetup
Presenting: Digify, WaterCity, SeeBright, and Slithr
The July 2014 Meetup is dedicated entirely to our popular segment:  Pitch Sessions. Startups will have five minutes to pitch their company to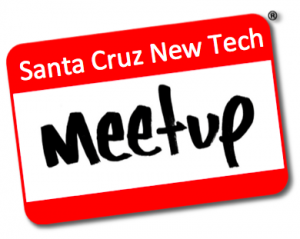 VCs.  The VCs will each have one minute to ask questions and offer advice.  The audience will be able to ask questions and also give feedback.  The top two startups will win a prize/cash of $100 value. Winner of a Fat Free e-bike from NTS Works will be announced at this event. Deadline is 5pm PT July 8, 2014. For a $10 donation, you could win this revolutionary e-bike built in Santa Cruz. Participate now:  http://www.fundly.com/inventfest
The agenda for July 9:
6-7pm  NETWORKING: connect, food, beverage, and LIVE MUSIC from Cruz Control.  
7-7:15  WELCOME: Doug Erickson, Lydia Snider, Santa Cruz Tech Beat, Winner of Fat Free e-bike from NTS Works.
7:15-8:15 PITCH SESSIONS
Mentors include:  Bud Colligan / South Swell Ventures, Manny Fernandez / SF Angels Group & DreamFunded, Mark Mitchell / Sand Hill Angels.  Additional Mentors will be confirmed prior the event.
8:30-9:00 NETWORKING
Admission to this event will be given to people who have RSVP'd on Meetup. Attendance is limited to 225 so RSVP early! Doors open at 6:00pm. If you RSVP "Yes", please plan to check in at the registration desk by 6:30pm. At 6:30pm we will begin opening "no show" spaces to people on the wait list.  If you are on the Wait List, we will notify you by 6:15pm if there are openings. Sorry, no Walk-ins.
Learn about hot new technologies and mingle with 200+ fellow entrepreneurs, investors, bloggers, and tech enthusiasts.
Audience entry fee is $10.  FOOD & BEVERAGE PROVIDED.
Learn more and RSVP here: http://www.meetup.com/santacruznewtech/events/187654592/
###
Sara Isenberg publishes Santa Cruz Tech Beat for the benefit of the extended business and technology community. When she is not volunteering her time for the tech scene, Sara makes her living by managing software projects, web strategy planning, and providing development team services (including account management, vendor management, strategic partner management, beta project management, referrals to qualified technical team members, and more). Please visit her website: Sara Isenberg Web Consulting & Project Management, or contact Sara by email if you have any project management, account management, or Development Team leadership or service needs.