Companies
Fullpower Gets Into Bed with Serta Simmons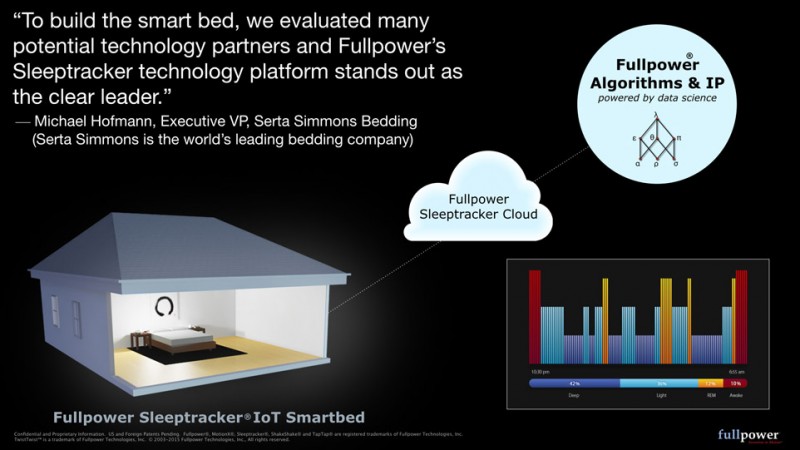 By Leslie Ruble
Fullpower
June 27, 2015 — Santa Cruz, CA
"Every bedroom needs a smart bed" — Phillip Kahn, CEO of Fullpower
Serta Simmons Bedding, LLC ("Serta Simmons Bedding") and Fullpower Technologies, Inc. ("Fullpower") announced recently they have formed a strategic partnership to create a revolutionary new smart bed system leveraging Fullpower's patented Sleeptracker® technology. This partnership brings together the iconic Beautyrest® and Serta® brands with Fullpower's leading patented sleep technology platform, powered by data science and optimized with research from more than 200 million nights of sleep.
"To build the smart bed, we evaluated many potential technology partners and Fullpower's Sleeptracker technology platform stands out as the clear leader," said Michael Hofmann, Executive Vice President of Research & Innovation for Serta Simmons Bedding. "The Serta Simmons Bedding and Fullpower teams immediately clicked." Mr. Hofmann went on to say "If you're serious about improving the quality of one's sleep, you first must know how that individual is currently sleeping. Are they getting the proper amount of restorative sleep? Only then can you begin to add true value in helping them improve their sleep."
"Every bedroom needs a smart bed, and with their reputation for innovation and quality, Serta Simmons Bedding is our ideal partner," said Philippe Kahn, CEO of Fullpower. "Together we can help redefine the sleep industry."
Additional details regarding features and availability will be announced soon.
About Serta Simmons Bedding
Serta Simmons Bedding, LLC ("SSB") owns and manages two of the largest bedding brands in the mattress industry ­ National Bedding Company L.L.C. (the largest licensee and majority shareholder of Serta, Inc.) and Simmons Bedding Company, LLC. SSB is based in Atlanta and operates 36 manufacturing plants in the United States, five in Canada and one in Puerto Rico. Its subsidiary, National Bedding Company L.L.C., is based in suburban Chicago and markets a broad range of products under the Serta® brand, including Perfect Sleeper®, iComfort®, iSeries®, Sertapedic® and a portfolio of licensed products. SSB's other subsidiary, Simmons Bedding Company, LLC, is based in Atlanta and markets a broad range of products including Beautyrest®, Beautyrest Black® and BeautySleep®. Both companies also serve as key suppliers of beds to many of the world's leading hotel groups and resort properties.
About Fullpower
Fullpower® provides the leading MotionX patented ecosystem for wearable and IoT sensor-based solutions supporting state-of-the-art sensor arrays. For the "Quantified Self", Fullpower has developed the MotionX® Technology Platform for advanced wearables and smartwatches that include automatic activity and sleep monitoring. Fullpower drives sensor-based solutions for market leaders such as Nike, MMT, Alpina, Frederique Constant, Mondaine, Jawbone and others. For more information, visit www.Fullpower.com.
Tagged Fullpower