Companies
Looker Democratizes Census Voting Data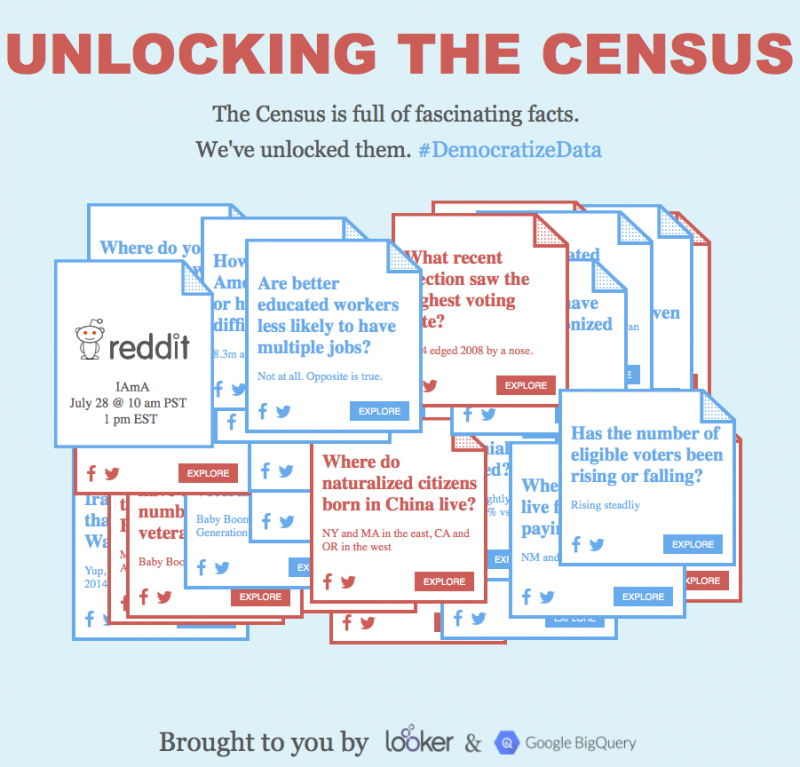 By Brian Ziel
Looker
July 20, 2016 — Santa Cruz, CA
Looker decodes 20 years of public voting data from the U.S. Census Bureau for the world to see
In the 2012 presidential election, more than 70% of eligible black women voted, representing the highest rate of any major American demographic group and the culmination of a trend of rising voting rates among black women that dates back to 1994.
This is just one of hundreds of hidden trends that Looker, the data platform company, and Google BigQuery have found in voting data from the Census Bureau that until now couldn't be explored freely because of the difficulties of accessing data of this size and complexity.
Looker, the company powering hundreds of data-driven businesses, has once again teamed up with Google Cloud Platform to bring another U.S. public dataset into the hands of anyone who wants to explore it. Starting today, anyone can access censuslooker.com and discover fascinating insights from the last 20 years of U.S. Census Data unlocked by Looker.
"It's easy to download public datasets, but just being able to access the data isn't enough. Everyone should be able to explore and make sense of these immensely valuable resources without years of training or expensive software," said Daniel Mintz, Chief Data Evangelist at Looker. "With the help of Google Cloud Platform we were able to use Looker to make 20 years of rich voting data explorable to anyone."
This dataset can be sliced millions of ways to uncover trends that have changed the social and cultural makeup of America. In this election year, this data is especially valuable for understanding who votes, who doesn't, and how that's changed over the last two decades.
More Than Voting Data…
In addition to voting data, the Current Population Survey data that Looker makes available uncovered patterns and trends from the last 20 years associated with income, occupation, age, race, citizenship, education, housing, residency, military service and many more. Did you know that there are 5X as many full-time college students as part-time college students? Did you know that U.S. Veterans are most likely to work in Public Administration or Retail after they serve? Did you know that a higher percentage of Americans are finishing high school than 20 years ago? Did you know almost twice as many Americans are graduating college today than 20 years ago? These are just few of the thousands of nuggets that have been uncovered by exploring this dataset.
Want to Know More? Ask Looker Anything!
Join us on July 28 at 10:00am PT/1:00pm ET for a Reddit AMA hosted by Daniel Mintz. Anyone can ask Daniel a question about the Census data and he will find answers for you live.
More
About Looker
Looker brings data-driven decision-making to every level of an enterprise with a data platform that creates a single source of truth so every business team can easily ask and answer their own questions. The company is powering data-driven cultures at nearly 600 industry-leading companies such as Yahoo!, Gilt, Warby Parker, and Sony. The company is headquartered in Santa Cruz, California, with offices in San Francisco, New York City, and London. Investors include Kleiner Perkins Caufield & Byers, Meritech Capital Partners, Redpoint Ventures, First Round Capital, Sapphire Ventures, and PivotNorth.
###
Tagged Big Data, Data Analytics, Looker