Companies
Looker Enhances Self-Service Analytics for Everyday Business Users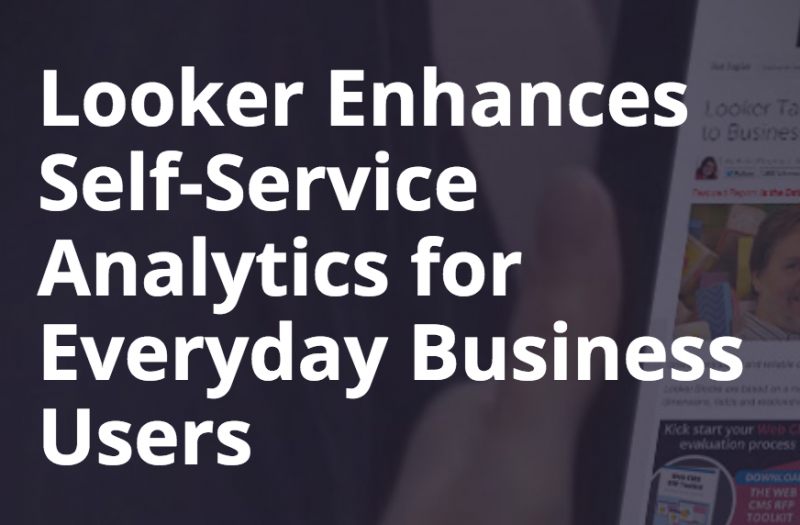 (Contributed)
February 13, 2018 — Santa Cruz, CA
Make decisions and take immediate action based on current, trusted and secure data
Looker, the leading data platform company, today released new features and enhancements that make it easier for everyday users to drive greater value from their business by acting on critical business decisions from trusted, data-driven insights.
"Businesses have been collecting vast amounts of data, but there's no value until they can understand what the data is telling them," said Frank Bien, CEO of Looker. "Looker was founded on the principle of supporting those organizations who demand fresh, unlimited, unified, and actionable analytics. We're addressing the growing need for non-technical users in organizations of all sizes to have the most current data so they can take action to make their businesses more competitive, more profitable and more successful."
Looker is continuously improving to serve business users by giving them insights they require to do their jobs and the ability to act on those answers immediately within their workflows. Enhancements in this release include:
Major enhancements to the content experience – A new dynamic user homepage delivers and suggests more relevant contextual insights, as well as the ability for users to curate and control what they share and see.
Improved workflow integration – Receive critical alerts and quickly share information directly from within Looker to anywhere by using completely intuitive, redesigned scheduling features.
Expanded packaged solutions – Pre-built experiences for specific use cases to start getting meaningful answers right away. Nearly 90 Looker Blocks are now available from over 20 partners. The Marketing Application by Looker is now ready for customers to try. It analyzes all relevant marketing program performance in a beautifully designed interactive interface, and it allows users to take required actions from within Looker.
New dynamic and interactive visualizations – Virtually unlimited visualization library with hundreds of customization options.
Greater security and governance – Modern centralized architecture and dozens of features to ensure that data remains fresh, reliable and secure. Supports improved security posture and compliance with initiatives such as GDPR.
"We make important business decisions every day, at all levels of the company and across multiple teams," said Simon Goble, Chief Marketing Officer of DogBuddy. "With Looker, everyone can access real-time insights that very quickly help to shape the course of our day-to-day operations and pinpoint where we should focus our time, attention or budget. It's invaluable for us to be able to instantly access a 360-degree view of our business and take action right away."
Learn more
###
Tagged Looker