Companies
Driscoll's: Delivering on Delight through a Technology Enabled Supply Chain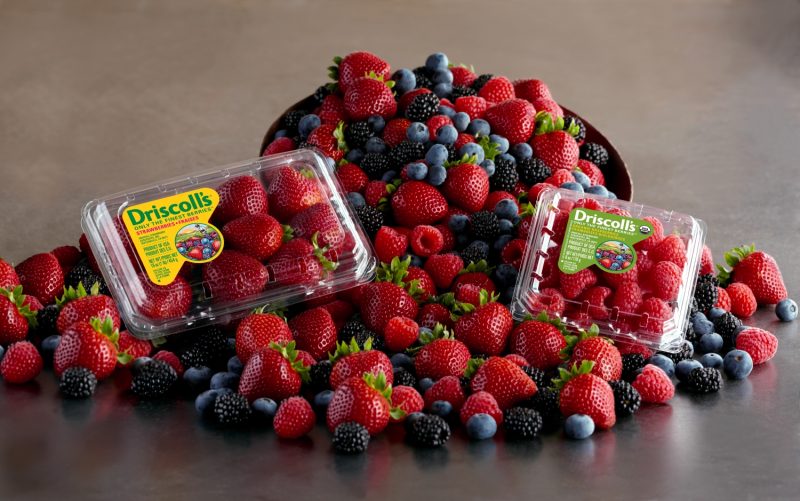 By Soren Bjorn
Executive Vice President, Driscoll's of the Americas
Special to Santa Cruz Tech Beat
June 23, 2016 — Watsonville, CA
Where does technology fit in when our business model ultimately relies on Mother Nature and the art of growing practices?
As a trusted global brand, Driscoll's is passionate about growing great tasting berries. For more than 100 years, Driscoll's has been on a mission to delight the berry consumer with fresh, beautiful and delicious strawberries, blueberries, raspberries and blackberries. Driscoll's superior berry flavor has been advanced through proprietary varieties and natural cross-pollination breeding techniques to enhance texture, flavor, and size and shape. Delighting our berry consumer is part of our mission and we strive to provide an incredible berry eating experience for our consumers. So where does technology fit in when our business model ultimately relies on Mother Nature and the art of growing practices?
Today, Driscoll's supply chain for North America consumers includes cooling and transporting over 1 billion pounds of fruit from a network of independent growers in California, the Pacific Northwest, the US northeast, Florida, Central Mexico, Baja, and Chile and Peru. With more than 150,000 thousand customer orders shipping more than 35,000 truckloads of fruit to over 400 customer locations, it becomes critically important for Driscoll's to have integrated technology solutions that monitor and track the shipment of our berries from the fields to in-store. Combined, all of these innovative tech solutions are part of Driscoll's Delight Platform which provides real-time, on-demand tools and analytics so we can manage the two supply chain drivers of delight:
The berry's age; the fresher the better for the consumer's eating experience.
Properly maintaining the cold chain at a temperature of 33 degrees throughout the supply chain.
The core engine of Driscoll's Delight Platform is a closed loop system powered by the HarvestMark food traceability and insights technology platform. Each year, more than 1 billion clamshells protect and help safely deliver our highly perishable and delicate berries. Driscoll's clamshells each have a unique, embedded traceability code which allow us to measure quality and freshness at the store level through a sophisticated retail audit process. Proprietary analytics then generate actionable insights about the drivers of freshness and quality, allowing Driscoll's and our retail partners the visibility to make critical supply chain decisions.
In addition, the HarvestMark traceability code found on the clamshell also powers Driscoll's Consumer Advisory Panel, a loyalty program that rewards consumer to rate their berry eating experience by completing a simple on-line survey. Thousands of completed consumer surveys provides us valuable insights capturing details down to berry variety types, growing regions and by customers. We've answered some very interesting and valuable questions through the data analysis such as:
Can a berry be too sweet?
What's the perfect berry size?
Are strawberries grown in California better tasting than Florida?
Is the CA drought impacting berry flavor satisfaction?
Driscoll's also uses a variety of other innovative technology solutions to track real-time location of our berry shipments across the country and to continuously monitor temperatures so we maintain the cold chain. An example is Locus Traxx™, which is a small GPS enabled, temperature monitoring device placed with each customer order. These sensors continuously transmit their readings from the start of their journey when leaving a Driscoll's cooler, to the customer's distribution center where the berries are received. Each active device sends information back to the central system, which then provides alerts to smart phones and displays real time on wide screen monitors, giving the Driscoll's transportation team 7×24 visibility to the status of all deliveries. Any traffic delays or temperature issues in transit can immediately be addressed, for optimal freshness.
We've also partnered with Inteligistics, a provider of innovative cold chain management solutions. Their InteliTemp™ solution utilizes a Bluetooth enabled probe for real time, paperless collection of temperatures at receiving and shipping. InteliCool™ is a unit that hangs on berry shipping pallets during the forced air tunnel cooling process, and notifies us when the berries have achieved their optimal temperature. Combined, these tools provide much greater accuracy in temperature management.
Growing the finest berries in the world requires care, commitment and dedication. The use of cutting-edge technology has an important role in Driscoll's supply chain. Driscoll's has a history of innovation with the proven ability to bring technologies and knowledge together to improve efficiencies from field to fork. We hope we live up to our brand promise of Only the Finest Berries.
Related:
###
If you wish to republish this article, please follow our Terms of Use.
###
Tagged Driscolls