Events
Aptos High School Robotics Club Sends Team to MATE ROV International Competition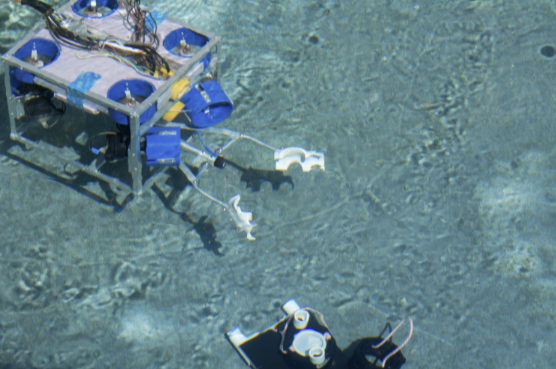 By Richard deCastongrene
Aptos High School parent
Special to Santa Cruz Tech Beat
June 23, 2016 — Aptos, CA
(Photo above: The Aptos High School team built this Nautilus 2.0 ROV. Credit: Steffen Lovell)
Aptos High School students win the chance to compete at the 2016 contest in Houston at the Neutral Buoyancy Lab at the NASA Johnson Space Center on June 23-25
The Aptos High School Robotics Club is sending a team to an international competition this summer. The team and their underwater ROV (Remotely Operated Vehicle), the Nautilus 2.0, placed second overall in the Ranger division during the recent Northern California regional competition and won the opportunity to go on and compete against other winning teams from other states and countries. They will be competing in the 2016 MATE International ROV competition at the NASA Johnson Space Center in Houston, TX.
The team built and piloted the Nautilus 2.0 through a series of missions that simulated a variety of underwater activities. These activities included exploring under the ice of Jupiter's moon Europa and completing scientific and industrial tasks under the ocean here on Earth. The competition also requires a detailed technical specification document for the ROV and a group sales/technical presentation to a team of judges. The team needs to be able to answer questions from the judges during this presentation. The competition will be similar in Houston, but against the world's best teams and taking place at NASA's amazing Neutral Buoyancy Lab (NBL).
Aptos High Robotics Club has a long history of competing at the regional and international level and has even won the International contest in the past. This year's team consists of the following students from Aptos High:
•    Michael Heffner- CEO/ Pneumatics
•    Victoria Carvill- CFO/Co-pilot
•    Monte deCastongrene- Engineering/Pilot
•    Elliot Lovell- Design/Tether Management
•    Tanisha Babic-Secretary/Programmer
•    Krista Spurlock- Deck Management
•    Jackson Mace (not going to international) – Buoyancy
•    Carter Bond – Buoyancy
•    Johan Govar – Electrical Management
In addition, the team has an adult mentor. Norm Black, and multiple volunteers that help support them. The students learn a variety of technical and scientific skills as they construct, test, and use the ROV. The team has a Fundly fundraiser where you can help support the next generation of engineers and scientists on their trip to Texas (https://fundly.com/fund-raiser-for-aptos-high-school-robotics/)
MATE (Marine Advanced Technology Education) is an education partnership working to improve marine technical education. Headquartered at Monterey Peninsula College (MPC) in Monterey, MATE has organized the ROV competition for 15 years. The competition has been featured in a documentary, book, and the 2015 feature film "Spare Parts". MATE's mission is to use marine technology to create interest in and improve science, technology, engineering, and math (STEM) education and to provide the marine technical workforce with well-educated professionals.
Here's a video recap of MATE's 2016 Monterey Bay Regional Competition, which took place April 30th at Aptos High School:
2016_Monterey_Bay_regional from MATE Center on Vimeo.
Additional info:
###
If you wish to republish this article, please follow our Terms of Use.
###
Tagged Robotics