Featured
How to turn a telescope into the first automated planet finder in the world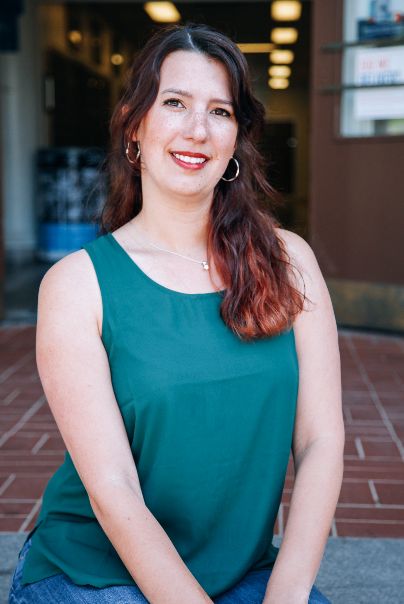 By Peggy Townsend
UC Santa Cruz
June 16, 2016 — Santa Cruz, CA
(Photo above: Grad student Jennifer Burt played the linchpin role in writing the software for this Automated Planet Finder Telescope. Credit: C. Lagattuta)
Astronomy student Jennifer Burt helped write software that turned a powerful telescope at Lick Observatory into the first automated planet finder in the world
Every night for a year, astronomy graduate student Jennifer Burt would settle into a small room on the UC Santa Cruz campus and begin her job as a planet hunter.
While most people slept, Burt would examine weather, atmospheric conditions, and time of year before deciding which stars on a long list of possibilities would be the best targets for a powerful telescope located at Lick Observatory on Mount Hamilton. A run of fingers over computer keys would then start the telescope searching portions of the night sky for its prey: planets that orbited stars beyond our solar system.
"After a year," said the 28-year-old with a laugh, "I thought maybe we should automate this thing because I would like to sleep at night."
Which is exactly what the competitive ballroom dancer and former Cornell University grad did. She went to work helping write software that turned the $12 million telescope into a robotic version of herself. It became the first automated planet finder in the world.
"Jenn played the linchpin role in writing the software that puts the 'A' in the APF (Automated Planet Finder) Telescope," says Greg Laughlin, professor of astronomy and astrophysics at UC Santa Cruz. "With hard-won night after night of on-sky experience, she was able to gain a full understanding of all the nuances, subtleties, and contingencies that occur in the course of operations. She was then able to fully translate this intuitive understanding into the stark, fully defined logical structure that permits a computer to take over the night-to-night role of a human observer."
Continue reading article here: http://news.ucsc.edu/2016/06/planet-hunting-grad-student.html
Tagged UC Santa Cruz