Companies
Seebright launches handheld augmented reality viewer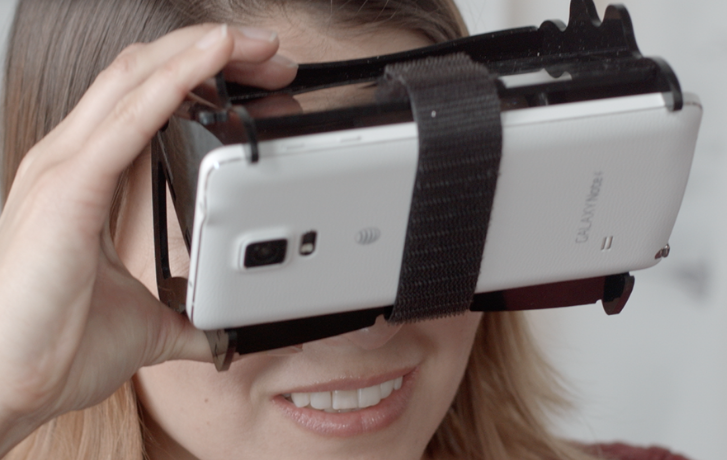 By Sara Isenberg
Founder, Publisher, Editor-in-Chief, Santa Cruz Tech Beat
June 9, 2016 — Santa Cruz, CA
The Ripple is a new handheld augmented reality (AR) viewer by Seebright, what might be "Cardboard of AR."
Seebright's Ripple is being introduced as a laser-cut and user-assembled limited edition for developers and users. The Ripple creates a wide field-of-view, see-through display powered by iOS and Android smartphones. Seebright demonstrated the Ripple on June 1and 2 at the Augmented Reality World Expo in Santa Clara. it is priced at $39.99.
As described by Seebright:
The forward orientation of the smartphone's main camera enables a variety of computer vision and AR applications. The handheld stereoscopic display provides a wide 56° field-of-view and a 9' focus distance for comfortable and immersive viewing. The handheld design is easy to pick up and easy to pass among colleagues, classmates and friends.
With this new release, AR World just published, "Did Seebright Just Launch Google Cardboard for AR?" Except:
Enter Seebright, a promising AR/VR startup that just launched what might be "Cardboard of AR", For mere $39.99, you can purchase a fully fledged AR development kit supporting most popular AR frameworks of today. The concept is very simple – take a set of 10 laser-cut parts, assemble them in orderly fashion, strap your smartphone and you're good to go. Seebright supports both Apple iOS and Google's Android, with the Seebright SDK featuring an emulator that works on both platforms. Most importantly, the SDK comes with support for Unity Engine and Unreal Engine – you can build and test your own application almost immediately.
Watch the video:
Assemble your RIPPLE Augmented Reality (AR) Viewer from John Murray on Vimeo.
Learn more here: http://seebright.com/seebright-ripple/
###
If you wish to republish this article, please follow our Terms of Use.
###
Tagged Seebright