Companies
CES: Smartphones Become See-through Augmented Reality Displays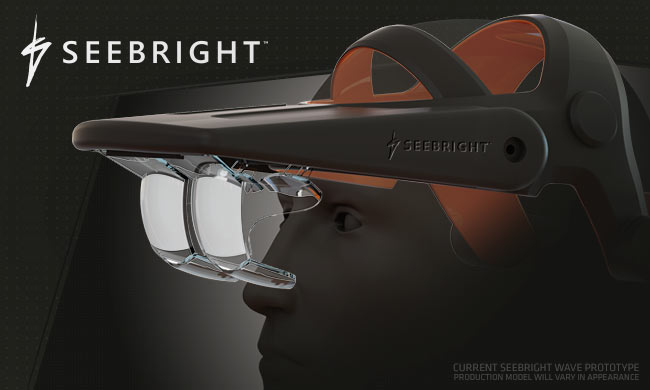 Seebright Wave Unveiled at CES — Kickstarter campaign coming soon
Augmented reality pioneer Seebright, Inc. has unveiled the Seebright Wave(TM) HMD (head-mounted display) system at the Consumer Electronics Show with a unique optical design supporting a new generation of mixed media applications on iOS and Android smartphones. The Seebright Wave system will be coming to Kickstarter with its companion 9-axis, 3D visually tracked motion controller, a native navigator for consumers to explore applications, the Seebright application suite and software sharing platform. Developers will be able to create completely new visual experiences borrowing from AR and VR (virtual reality) for casual gamers and consumers.
"Our breakthrough multi-mirror optics deliver a stunning, high quality visual overlay for 3D stereoscopic smartphone driven projection," said Dirk Kanngiesser, Seebright CEO. "With the Seebright Wave HMD system, users can see one another and the real world while experiencing a new generation of mobile AR and VR games and applications."
Seebright exhibited at the 2015 Consumer Electronics Show January 6-9, and will be at the Upload World Tour Kickoff in San Francisco on January 16.
"We have figured out how to turn your smartphone into a true see-through augmented reality display with the widest field-of-view of any see-through display out there and we will deliver it on Kickstarter with our motion controller for less than $150," said John Murray, Seebright Co-Founder and CTO. "The Seebright Wave HMD system is a significant refinement of prior designs and uses a revolutionary curved multi-mirror optical design resulting in low optical distortion. It projects high resolution images from a smartphone for both high quality AR and VR experiences."
Continue reading full article here: http://www.prweb.com/releases/Seebright/CES2015/prweb12420516.htm
Watch: How Seebright VR Sees the World
###
Tagged Seebright