Companies
Watch: Seebright Wave AR headset heading to Kickstarter in March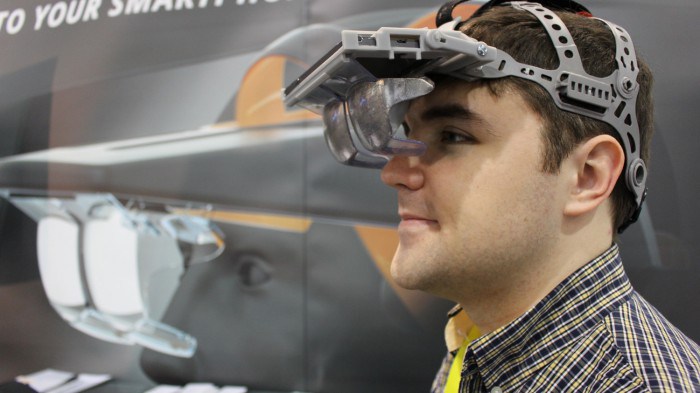 by Scott Hayden
Road to VR
February 6, 2015 — Santa Cruz
Smartphone-powered AR Headset Claims "Widest Field of View"
The latest prototype design of a new augmented reality device was unveiled at last month's CES: Seebright Wave is an AR headset that plans to use the graphical power of your smartphone to make augmented reality a low cost affair. Seebright claims that the Wave has the widest field of view of see-through AR devices in its class, a poignant advantage given the commentary of the narrow field of view on Microsoft's recently revealed HoloLens.
Much like Google Cardboard leverages the power of the smartphone to make for a low-cost VR headset, the Seebright Wave aims to do the same for AR. Targeted initially toward phones in the 6-inch class, like the iPhone 6 Plus, Nexus 6, and Galaxy Note 4, Seebright says the Wave has "the widest field-of-view of any see-through display out there."
Heading to Kickstarter in March, starting at $150, the Seebright Wave is set to arrive with a companion controller that's visually tracked. Seebright's first-party application suite, SDK, and software sharing platform are also set to be released upon completion of the crowd-funding campaign. The company has made significant changes to their previous design which we saw last year during the 2014 SVVR Expo in May. Road to VR's Ben Lang spoke with Seebright's CMO, Simon Solotko, to learn more about the device (note: in the interview it's stated that the Kickstarter will launch in February, but the company has since updated us on their timing).
Watch interview with Seebright CMO Simon Solotko:

Continue reading article here: http://www.roadtovr.com/seebright-wave-smartphone-ar-headset-widest-field-of-view-kickstarter-price/
###
Tagged Seebright