Companies
Mary Meeker, Looker, and Catching the Third Wave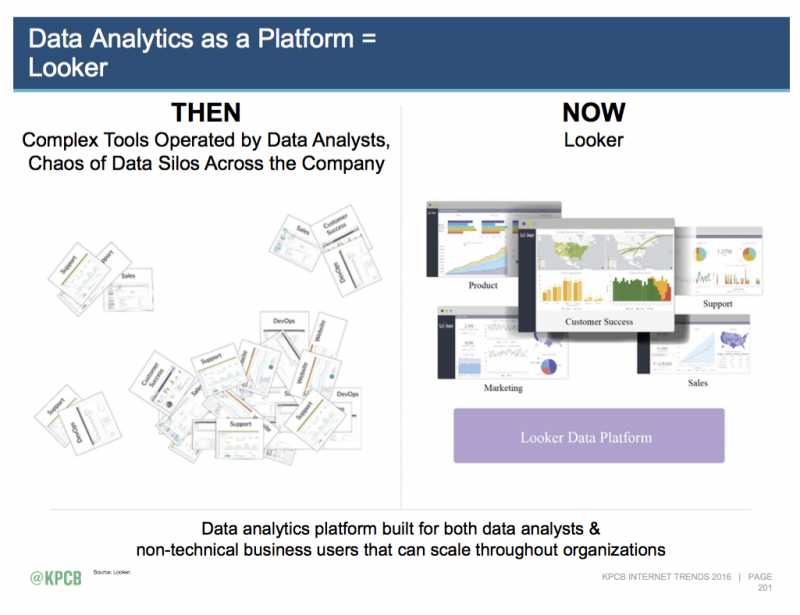 By Sara Isenberg
Founder, Publisher, Editor-in-Chief, Santa Cruz Tech Beat
June 4, 2016 — Santa Cruz, CA
"Meeker breaks the Internet with her bellwether Internet Trends report."
Mary Meeker released her annual Internet Trends report earlier this week.
According to Wikipedia, Mary Meeker is a venture capitalist and former Wall Street securities analyst. Her primary work is on Internet and new technologies. She is a partner at the Silicon Valley venture capital firm Kleiner Perkins Caufield & Byers. In 2014, she was listed as the 77th most powerful woman in the world by Forbes.
"Each spring," as described by Forbes, "Meeker breaks the Internet with her bellwether Internet Trends report, which in 200 slides details where Meeker believes the tech world is heading."
"This year I was excited to see that data is part of her focus – specifically Data as a Platform." — Jen Grant, CMO at Looker
Grant writes that Looker was "thrilled that she singled us out as one of the new breakout players pushing this third wave forward – showing how we're moving from the chaos and complexity of the old way of analyzing data to the new data platform where data is integrated into every function and every workstream."
On Catching the Third Wave
Grant writes:
Mary Meeker of Kleiner Perkins released her annual Internet Trends report this morning and I thought about going surfing for sure (I don't surf – but maybe now's the time..?). If you don't know her, Mary is a bit of an Internet legend. When I was at Google back in early 2000s, Jonathan Rosenberg always sent around her report requiring that everyone read and understand her analysis. It was great advice that forced me and my teammates to stick our heads up above the day-to-day and think about what is happening in technology and what it means for the world. This year I was excited to see that data is part of her focus – specifically Data as a Platform. Every day we talk to Looker customers who tell us how they have fundamentally changed their way of doing business with the Looker Data Platform. And now, this massive shift has stepped onto a bigger stage.

The three waves she talks about are something we see every day. Data is either stuck in a bottleneck behind monolithic systems or is spread across a company stuffed into business applications and bolt-on BI tools. The Third Wave is the change our customers are experiencing with cool innovations like the Lookerbot in Slack and our Looker Data Apps where data becomes integrated into the very fabric of everyone's day-to-day work.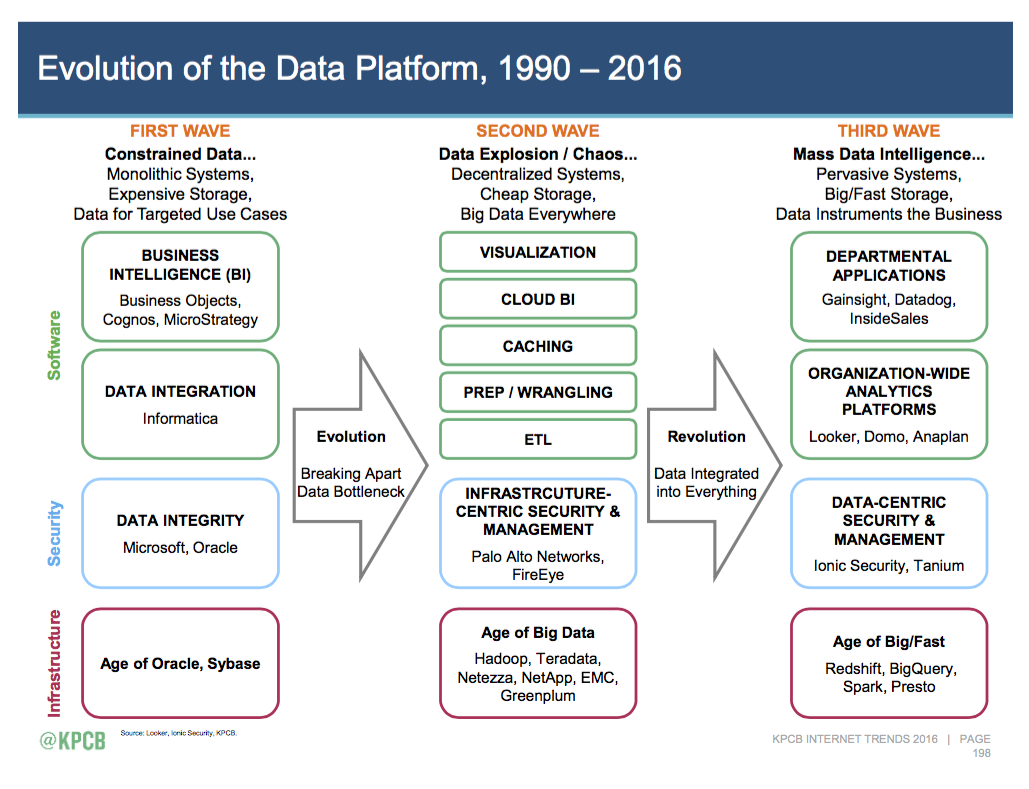 Read Grant's original blog post in Looker's blog.
###
Tagged Looker