Companies
The NextSpace Effect: Eric Ressler of Cosmic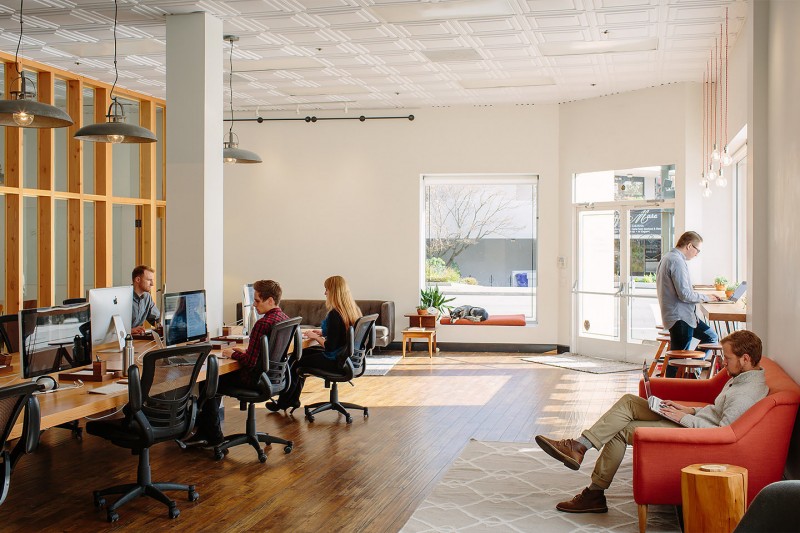 By Cat Johnson
Freelance writer and content strategist
May 7, 2016 — Santa Cruz, CA
In 2009, Eric Ressler (above left) became a member of NextSpace Santa Cruz. At the time, he was designing and developing from his bedroom in a house full of people who kept opposite hours from him. The move into NextSpace enabled him to focus on his work and scale his business. After two years, he had launched Cosmic, his own creative agency, and built a team around him.
When it came time to move Cosmic into its own building, Ressler took the spirit of NextSpace with him. Cosmic headquarters, which is a few doors down from NextSpace in downtown Santa Cruz, feels like a coworking space, with an open floorplan, large community tables, lots of interaction and movement, and dogs. The business is organized as a flat hierarchy and prioritizes work/life balance with four-day work weeks and plenty of time off.
These days, Cosmic is a standout of the Santa Cruz business landscape, a top-tier agency that also has a strong focus on creating community and sharing its space through events that bring together different local businesses and groups. Going full-circle to its coworking roots, Cosmic redesigned the new NextSpace website.
I connected with Ressler, who's now the creative director at Cosmic, to find out more about launching a business in a coworking space, the influence coworking continues to have on Cosmic, and how the company has remained part of the NextSpace community. Here are the highlights of our conversation.
Cat Johnson: What did you pick up at NextSpace that you brought with you to Cosmic?
Eric Ressler: For one, NextSpace opened up this thought process in my brain that there's more than one way to set up a company, and more than one way to structure it, in terms of organization and space and all those things. Coworking felt like a much newer paradigm and a much more modern approach to starting a business and running a business.
It also opened up this realization that there's so much to these serendipitous moments of bumping into one another. I don't think that was something I fully grasped until working at NextSpace. So, when we've designed our studios, we've always tried to keep an open office setup to allow for serendipity.
CJ: What's your ongoing relationship with the NextSpace Community?
ER: We've been really ingrained in the NextSpace community from the early days, so we've maintained relationship with a lot of the early NextSpace community members and staff. And, as new members and staff have joined up, we've tried to stay in communication and be part of the community.
Continue reading article here: http://nextspace.us/blog/2016/eric-ressler-of-cosmic-q-a-1
###