Companies
Assisted Serendipity – Success Magazine profiles NextSpace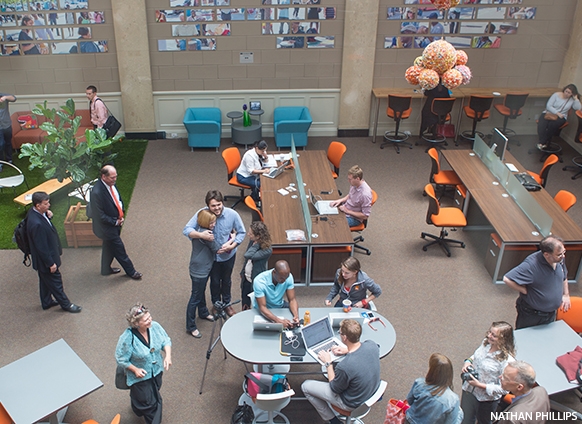 by Larry Keller
Success Magazine
Community in Co-working (and Other Perks of the Business Trend)
Parker Whitney graduated from college in 2008 with a degree in psychology and a large question looming: Now what? "There was no work anywhere," he says. A year later, he learned that Indy Hall, a co-working site a five-minute walk from Philadelphia's Independence Hall, had an internship available.
Whitney got the position and soon became the site's "den mother." The pay was paltry, the contacts invaluable. One of them was with a web developer named Jake O'Brien, who had designed a couple of video games in his spare time. "I had a little game idea myself," Whitney says. "We started riffing on the idea." The two then began collaborating further.
As luck would have it, Whitney later gave a tour of Indy Hall to somebody looking for a game developer. He and O'Brien got a contract job with him. "Indy Hall is such a facilitator for those serendipitous interactions," Whitney says. Equally important, he adds, is the "go-for-it mentality" that is part of the co-working culture.
<bla bla bla – skipping to the NextSpace stuff – read complete article here.>
Jason Beatty was one such person. Beatty, 43, was running a software company out of the Santa Cruz, Calif., house he shared with his wife and daughter in 2009. "When you work a lot of hours on a startup, you need some separation," he says. So he joined the local office of NextSpace.
There, he met Jim Brock, who had joined the co-working site for a different reason. Brock, 52, was developing consumer tools for protecting online privacy and was searching for "an opportunity to meet other entrepreneurial people in Santa Cruz. I needed somebody who would be responsible for the technical side."
Brock sent an email query to fellow NextSpace members, and Beatty responded. The two had lunch several times before deciding to collaborate. "Together we really accelerated the effort" and founded PrivacyChoice in 2012, Brock says. The company created a browser extension called PrivacyFix that monitors to what extent sites such as Facebook, Google and LinkedIn track consumers' data. In May 2013 they sold the business to AVG Technologies, a global Internet security firm based in the Czech Republic, for an undisclosed sum.
<bla bla bla – skipping to the NextSpace stuff – read complete article here.>
The steady, plodding growth of the economy since 2009 means fewer desperate job seekers, but Jeremy Neuner foresees no decline in demand for co-working spaces. He's the co-founder and CEO of NextSpace, which has eight co-working sites in California—including one that provides day care—and one in Chicago.
Neuner, who was the economic development manager for the city of Santa Cruz (another co-founder was the city's mayor), is convinced the country is in a "once-in-a-century" permanent shift in the workforce in which an increasing number of contingent workers are essentially free agents who work on a variety of jobs or projects for different employers contracting for their services. Younger workers, in particular, are no longer content to endure frustrating commutes and lifetime jobs, he says, but prefer to apply their skills as they wish.
"They want to trade a little bit of their security for their freedom. [But] they still need a strong sense of community, a place to go" to commiserate with others, Neuner says. He's not the only one who sees it that way.
Continue reading complete article here: http://www.success.com/article/community-in-co-working-and-other-perks-of-the-business-trend

###
Sara Isenberg publishes Santa Cruz Tech Beat for the benefit of the extended business and technology community. When she is not volunteering her time for the tech scene, Sara makes her living by managing software projects, web strategy planning, and providing development team services (including account management, vendor management, strategic partner management, beta project management, referrals to qualified technical team members, and more). Please visit her website: Sara Isenberg Web Consulting & Project Management, or contact Sara by email if you have any project management, account management, or Development Team leadership or service needs.
Tagged NextSpace