Companies
Opportunities for Growth During a Crisis: Origins of GetVirtual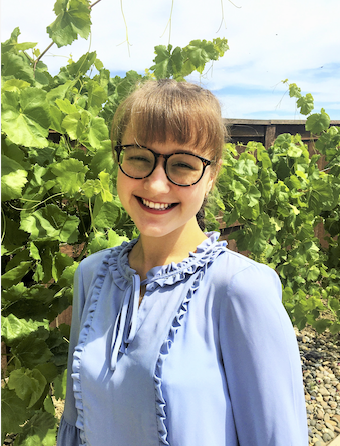 By Yuliya Monastyrska
Co-founder and project manager, GetVirtual
Special to Santa Cruz Tech Beat
February 16, 2021 — Santa Cruz, CA
(Photo above: UCSC student Yuliya Monastyrska shares her experiences working with GetVirtual, a local non-profit that pairs students with local businesses to build their online presence and survive COVID-19. Contributed.)
Becoming a co-founder of GetVirtual was definitely one of those lucky coincidences where one wonders, "how did that happen?"
I truly believe that I was at the right place, at the right time. I met Nada Miljkovic, a co-founders of GetVirtual, during the winter quarter of my sophomore year at UC Santa Cruz. Nada was teaching an entrepreneurial seminar, which I decided to take because I was interested in the idea of being an entrepreneur and I was also majoring in Business Management Economics.
The seminar remains the single most important class I have ever taken that has directly led me to a professional start in my career. That is also where I met Toby Corey, the founder of the idea for GetVirtual, who came to speak during one of the lectures about his career as an entrepreneur.
Pandemic hits
At the end of the winter quarter, the COVID-19 pandemic hit and I went home with new worries on my mind. About a week after the quarter ended, I received an email from Nada, she mentioned that she liked the work I had done during the seminar, and was inviting me to join her and a handful of other students in an independent study class. At the first meeting I met the team, among them was Toby Corey. Nada and Toby described that they would lead us in an effort to help the local Santa Cruz small businesses during the pandemic. Since a lot of the businesses relied majorly on foot traffic to the store, they were beginning to suffer financially due to the lockdown and stay-at-home orders. Nada and Toby were working with the Santa Cruz Economic Development group, which provided us with two local businesses that have volunteered for the program. Nada and Toby trained us as we started working in two teams helping the businesses build a website and a way to make money online. One of the business projects was with Pacific Trading Co. which I ended up leading in an effort to redesign their website and most importantly add a virtual appointment booking for customers to work directly with the owners, Anandi and Rama Zoe, in order to shop virtually.
The project ended up being a success, and GetVirtual decided to continue working with more businesses. Not long afterwards, I was managing three to four business projects at once, building websites, helping with social media marketing, and building virtual appointment schedules. I fell in love with the structure and organization of taking a project from the initial interview all the way to the launch date. Writing project proposals and checking each milestone off felt super rewarding, and I soon fell into a comfortable rhythm of being a project manager. I also fell in love with the humanity aspect of the work. I got to know such a variety of business owners, most of which were extremely pleasant and thankful for the free services GetVirtual was providing for them. I had the opportunity to truly get to know them, not just as business owners, but also as people who were going through some tough situations. The amount of dedication, grit, passion, and willingness to keep trying over and over again that the business owners expressed was the most inspiring aspect of my work. I also ended up making some great friends at GetVirtual as our group of co-founders stuck together like glue, supporting and helping each other out with our projects and encouraging each other to keep learning. My teammates were incredibly inspiring to me. Seeing them facing tough situations with clients, while simultaneously learning and gaining new skills motivated me to also not give up when facing a tricky situation or a difficult client (which luckily was quite rare).
Expanding the program
Before long, we were talking about expanding the program and getting more students on our team. Nada held a GetVirtual class during the summer quarter, and we started working with the California State University of Monterey Bay (CSUMB). In order to expand smoothly, we started designing a curriculum so that students had all the resources they needed in order to begin working with businesses, which I ended up leading. We further expanded to Santa Clara University, and are currently working with more schools to join the program.
I am so excited about the future of this program because everyone can benefit! The business owners are able to get free services and improve their virtual presence, and students are able to learn crucial skills with hands-on field practice. I am super thankful for the opportunity and the trust that has been given to me by the GetVirtual team members and the owners of small businesses.
###
Tagged CSUMB, GetVirtual, UC Santa Cruz