Featured
Salinas students get "CSin3" degrees thanks to orchid grower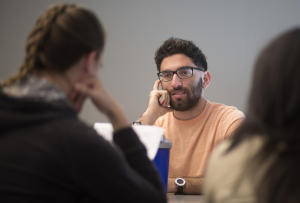 By Joe Rodriquez
Mercury News
April 27, 2016 — Seaside, CA
[Editor's note: Santa Cruz Tech Beat published Innovative Program Aims to Diversify the Tech Industry, 6/19/15, about CSUMB's CSin3 program.]
(Photo above: Maritza Abzun is one of the students taking part in CSin3, a college program that guides kids from farm worker and working class families to a degree in computer science in only three years. Credit: Patrick Tehan)
Three years ago, nobody was brash enough to tell Monterey philanthropist Andy Matsui that he was asking for a miracle. After all, he had given millions in college scholarship money to low-income farm boys and girls in Steinbeck Country, and nobody wanted to say no to the kindly man with the fat checkbook.
"I had my own doubts," said Sathya Narayanan, a computer science professor at Cal State Monterey Bay. "But it turned out it was not the complete pipe dream as some people said."
What Matsui, an orchid grower who founded a nursery chain bearing his name, believed in has come true. In late May, 22 students from farmworker and working-class families in and around rural Salinas will receive diplomas in computer science from Cal State Monterey Bay, which they earned in only three grueling years.
Maritza Abzun, a 20-year-old senior, is heading to Chicago this summer for a computing job with JP Morgan Chase. Daniel Diaz, 21, will start a computing job with Uber in San Francisco after graduation, not far from where Maria Rivera, 21, will be working for Salesforce.com. Alonzo Mendoza, 22, plans to stay in Salinas, where he grew up in a farmworker family. He has landed a computing job in data visualization with Driscoll's, a large strawberry and berry grower in nearby Watsonville.
CSIN3
They were among the first students in "CSin3," shorthand for the computer science in three years program that emerged from Matsui's remarkable challenge. Twenty-two of them, or 69 percent, will graduate on time. Five more are on track to graduate in 2017, which would raise the overall graduation rate to 84 percent. Only four have dropped out.
Continue reading article here: http://www.mercurynews.com/breaking-news/ci_29812920/salinas-students-get-computer-science-degrees-three-years