Companies
Innovative Program Aims to Diversify the Tech Industry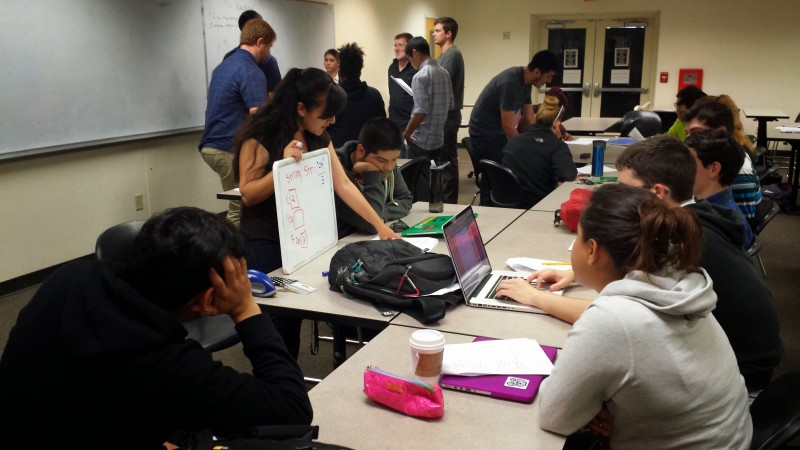 By Gail McNulty
Special to Santa Cruz Tech Beat
(Photo above: Karen Tafolla and other teaching assistants guide small groups through practice problems in preparation for a midterm in the introductory programming course. Contributed.)
June 19, 2015 — Seaside, CA
Path to a Brighter Future Offered by CSUMB – Hartnell College Computer Science Program
While driving to work one morning, Vanita Nemali, VP of Engineering at Salesforce, was moved by a radio program about an innovative Cal State Monterey Bay (CSUMB) – Hartnell College Computer Science program that provides full scholarships to children of farm workers as a path to futures in the tech world. A firm believer in the necessity of looking beyond "the traditional pipeline of Stanford and other elite schools," Vanita knew she would like to help. When it came time to hire Salesforce interns she reached out to Dr. Sathya Narayanan, Director of CSUMB's Computer Science program.
So began a partnership that continues to develop. This spring, Salesforce joined nearly a dozen other firms in supporting the CSUMB Capstone Project, a course that invites groups of students to tackle real world challenges. Business partners commit to at least one hour of mentoring per week for the duration of the semester-long course.
When asked about the importance of the program, Nemali said, "It is an opportunity to get diversity into the workforce, to make a difference in communities by inspiring youth and connecting them with role models that are living the Silicon Valley dream… I hope this is just the beginning and that Salesforce can continue to offer their engineers a chance to mentor students and give them a competitive edge in the field." Salesforce has two interns from CSUMB this summer.
Local Students, Local Jobs
Many of Narayanan's students are committed to staying in the region and helping their families to prosper. For them, local opportunities are particularly inviting.
Santa Cruz based PredPol, a successful startup that maps crime, offered two separate Capstone Projects this spring. When asked why they chose to participate in the program, Ben Hoehn, Marketing Manager at PredPol, said, "PredPol wants to contribute to the Bay Area community by helping young talent gain real-world experience. As a Santa Cruz founded company, it's in our best interest to promote recruiting locally, and prove that the path from education to placement does exist in the Monterey Bay Area." Hoehn went on to say that the program is important because, "It shows local students that they can find jobs near their families rather than leaving the Monterey Bay Area altogether."
PredPol is happy to announce that one of their capstone students, Nestor Zepeda of Soquel, has been chosen for a paid summer internship with the company. Both of Zepeda's parents are from Mexico and their highest level of education is middle school. Having held part time jobs to help pay for his education since he turned 16, Zepeda is excited about this opportunity:
"Ever since I was young I've always had a fascination with technology. As a child I enjoyed playing video games. My first encounter with a computer was when I was 8. However, my family didn't own a computer until I was in middle school. It was around this time that I began tinkering with them and finding out how they work. Studying computer science at CSUMB is the perfect fit for me. It has allowed me to learn more about what I love and do so from close to home. (During the capstone project at PredPol) We learned about the software development cycle, the importance of teamwork in a project and some more technical things about software development like the importance of carefully planning a software data structure so it can properly scale to function with thousands of data points without slowing down the app. I believe that this experience helped us learn what it's like to work on a real world development team and better prepared us for when we begin looking for jobs in the field. This summer, I am working alongside Mike Leavy, a Software Engineer at PredPol, to develop an enterprise app for police departments both in and outside of the United States. It is still a learning process for me and I am very excited for what I will be learning the rest of this summer."
How Can We Diversify the Tech Industry?
According to Narayanan, "Our young Computer Science program aims to address the increasing demand for well-prepared and highly qualified CS graduates in our region, state and country. We are increasing the number of CS graduates by broadening participation in computer science from traditionally underrepresented, first generation and low-income students."
CSUMB – Hartnell CSin3 program, cost effective for underserved students
Working in collaboration with Joe Welch from the CS department at Hartnell College with external funding from the Matsui Foundation, Narayanan co-founded the innovative CSin3, program (previously known as CSIT-In-3) to offer a timely and cost effective way for underserved students with economic hardships to complete undergraduate degrees in computer science in just three years. The dedicated students who enter the CSin3 program are serious about getting the best education possible so that they can help their families and give back to their communities.
To help students stay on track in this rigorous program, Narayanan and Welch implemented a cohort model that keeps a relatively small group of students together promoting collaboration and mutual support rather than a competitive learning environment. This strategy has been so successful, that Narayanan has decided to make the cohort learning model available to all CSUMB CS incoming freshmen.
Narayanan urges industry leaders to share their expertise with committed students:
"Given the right guidance and opportunities, a large pool of very talented students are waiting just beneath the surface at programs like ours, eager to apply their classroom learning to solve real world problems, ready to make big contributions and bring overdue change to Silicon Valley. We invite leaders from the industry to connect with our faculty and volunteer their time, expertise and knowledge to help guide these students and bring about the changes necessary in the CS education pipeline."
Christy Brandt, Chief Product Development Officer at PredPol, Inc. said, "We have had a great experience working with the leadership of the Computer Science program at CSUMB in order to create opportunities for local young computer science students. The program is growing rapidly and has many talented and motivated students."
Visit http://csumb.edu/cs, http://csumb.edu/csin3 to learn more about CSUMB's innovative CS programs and https://sites.google.com/a/csumb.edu/cst-499-computer-science-capstone-course/ to learn about the computer science capstone course.
###
Gail McNulty is a freelance writer/designer with 15+ years of marketing, community building and fundraising experience. She can be contacted at gail.mcnulty@gmail.com.
###
If you wish to republish this article, please follow these guidelines:
Add "The following article by <name of author> was originally published in Santa Cruz Tech Beat" at the top of your copy of SCTB's article and link that text to the original article in SCTB.
If you follow the above guideline (#1), you are welcome to publish a couple paragraphs of teaser text and then "Continue reading in Santa Cruz Tech Beat." and link that text to the original article in SCTB.
Learn more about our guidelines here.
Tagged CSUMB, Hartnell College, PredPol